Dream of Medivh ft. Embiggen
The sleeper has awakened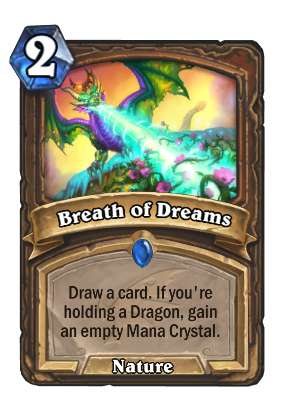 ---
Foreword

This used to be an old homebrew Ramp deck, that i keep twisting in WILD. Updated now with an Even setup, and additionally tuned for current Wild meta (SoU).
Original Core Cards
Wild Growth: your basic ramp card. If you are already high on mana, keep it as a card draw after turn 10 (it gives you Excess Mana). RIP Wild Growth, you will be missed.
WELCOME Breath of Dreams
Darnassus Aspirant: great board presence, that can lead to a subtle but insane ramp advantage the more she stays alive.
Mire Keeper: incredibly versatile card. It chains perfectly with the two previous cards. To be used mainly as ramp, unless threatened by a large board.
Medivh, the Guardian is the final key card of this deck, since its inception. It synergises very well with a lot of spells in the deck, acting as lategame steam and Tempo swings. The ramp engine of the deck helps at getting him out early.
Cards Explanation and Synergies
---
Mulligan
Main Keepers
Secondary Keepers
These are conditional keepers:
---
Strategy
Ramp & Curve during the early game (notice that many cards are multipurpose, so you can choose for the best path every time).
Don't worry if you can't ramp early. Play on Tempo, control the board with pings.
Use Swipe carefully against aggro, don't rush. It is often worth to ping with hero power for a few turns and let your opponent to build some board that can be fully cleared with a swipe.
Similarly for Spreading Plague: don't rush it, wait for your opponent to go wide, as much as possible while staying safe.
Keep your health far from opponent's lethal burst with taunts and armor.
At this point you should have either repelled a good amount of your opponent's efforts, and/or you have ramped up quite well. Or, your opponent has been more conservative than you. In any case, TIME TO PRESS ON.
Pay attention NOT to waste charges of [Hearthstone Card (atiesh, greatstuff of the guardian) Not Found] with pings, Pounce, or Wrath (unless strictly necessary ofc).
ALWAYS check for lethal: very often, while playing on Tempo, you are so busy to trade that sometimes you are in reach to finish off your opponent, but you don't realise it.
Remember that many of your defensive cards are also good as burst/finishers: Starfire, Swipe (these two together account for 18 damage total already), Pounce, Bite, Ultimate Infestation, and Branching Paths.
---
Alternate Token Package
If you do not like the Savage Package (how could you, it also rimes!), you can consider an alternative token package, with less Tempo, but more Midrange power (more fitting in a slow meta). Here's how:
---
There, hope you enjoyed it, and give it a +1
Vote On This Deck!
Enjoy this deck guide? Help others find it and show your support to the author by giving it an upvote!
8
---
More Ramp Druid Decks
---
More Decks From RavenSunHS