It's time for the grand finale of the 2022 competitive ecosystem, as Hearthstone World Championship is finally upon us! And this year we are finally returning to a proper signature tournament format that's worthy of bearing such a proud name, with 16 top players competing for the honor to call themselves the very best. Everything will be decided over the next three days, as the participants fight for their share of the $500,000 prize pool.
You can find all there is to know in our detailed guide below.
---
World Championship 2022 - An Overview
Just like in the most recent years, Worlds 2022 is still being listed under the label of Hearthstone Grandmasters - even though said designation has been effectively sunset by now. Consider this the final goodbye. However, it's all no longer being limited to a tiny pool of only 8 players, with 2 per region. Over the course of 6 Masters Tour events, the remaining shortened seasons of Grandmasters, and 2 Seasonal Championships (Summer & Fall), the final group of strong competitors has been determined.
As this has been the transitional year of sorts, it's all heading towards its inevitable conclusion now; and we have yet to learn what the 2023 competitive Hearthstone circuit will look like.
---
Tournament Format
The format used in previous tournaments of the year is in effect for the World Championship as well - with one small twist which ended up not mattering in the slightest.
Best of 5 Conquest.
Each player brings four decks, and one deck is banned before each match.

Death Knight class was not allowed to be banned.

4 Dual Elimination groups with top 2 players advancing from each.
Top 8 will then play through a single-elimination bracket to determine the winner.
In the end, the 2022 World Champion shall be crowned!
What's that, you say, the new Death Knight class being granted a full ban immunity? Oh, don't worry, it's not like anyone has even brought it to take advantage of this little precedent.
---
Competitors
Sixteen players from around the globe: four making it through the remnants of the Grandmasters system, four hailing from the Chinese Gold Series, and eight determined across the Masters Tours/Seasonal Championships. Once again, the competition will be taking place online.

(Source)
---
Decks
With the World Championship going back to its roots and featuring 16 competitors, that's an impressive number of 64 decklists! We will try to look into a full roundup later in the day (you can seek them out on the official Blizzard page meanwhile); for now here is a handful of spicy facts:
Not a single Death Knight has made it into the tournament. So much for that ban protection.
16 Rogues and 16 Priests, although not all of the same type.
13 Demon Hunters (all Quest) and 10 Druids.
5 Mages and 4 Paladins.
5 other classes may not be getting their representative this time around.
---
Casters
No surprises here, the known reliable crew steps in. This might be the final time we witness Jia at the virtual casting desk, as she has accepted the role on the Hearthstone Battlegrounds design team earlier in the year.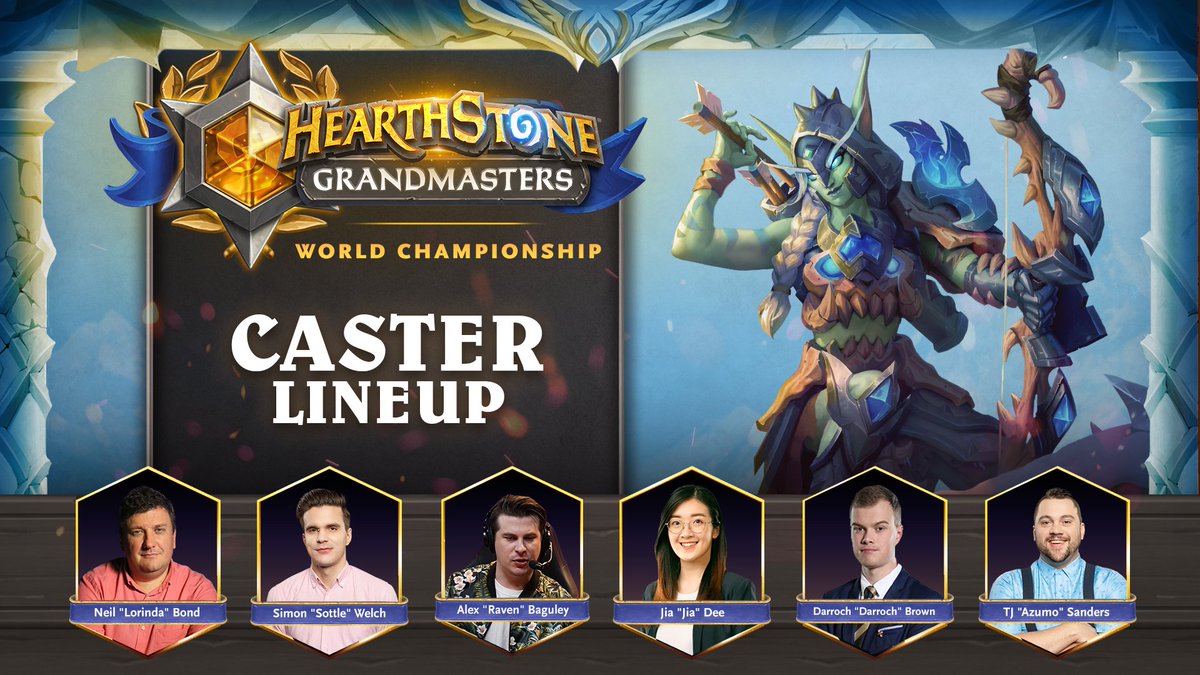 (Source)
---
YouTube Drops
YouTube Drops return once more!
Watch 2 hours of 2022 World Championship to earn 1 March of the Lich King Pack.
Watch another 2 hours to earn 1 more March of the Lich King Pack.
Time watched is cumulative throughout the weekend, doesn't have to be in one sitting. You must be logged in on YouTube and have your Battle.net account connected in order to earn YouTube Drops. More info here.
---
Schedule
West Coast

PST (UTC-8)

East Coast

EDT (UTC-5)

Europe

CET (UTC+1)

Korea

KST (UTC+9)

Friday (Dec 16)
00:00
03:00
09:00
17:00
Saturday (Dec 17)
00:00
03:00
09:00
17:00
Sunday (Dec 18)
00:00
03:00
09:00
17:00
Hearthstone 2022 World Championship will be played over three days:
Day 1 will feature 10 matches.

Initial Group A/B, Winner, Elimination, and Decider Matches.

Day 2 will feature 10 matches.

Initial Group C/D, Winner, Elimination, and Decider Matches.

Day 3 will feature 7 matches.

Single-elimination playoff round, followed by the Top 4 players.
You can find all the matches and results on the official tournament site.
---
Streams - Watch Live
The entire tournament will be streamed on the PlayHearthstone Youtube channel. Don't forget about those Youtube Drops on the line as you cheer for your favorite player!
---
Who would you pick as your future World Champion?