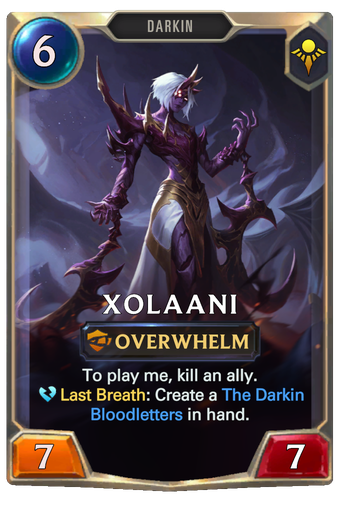 ---
Card Stats
Region Shurima
Expansion Worldwalker
Rarity None
Cost 6
Attack 7
Health 7
---
Card Text
To play me, kill an ally. Last Breath: Create a The Darkin Bloodletters in hand.
---
Keywords
Last Breath - These abilities take effect when the unit dies.
Overwhelm - Excess damage I deal to my blocker is dealt to the enemy Nexus.
---
Flavor Text
Shurima's Ascended were doomed the moment they took up arms against the Void. This was an enemy that could never be beaten, and while the god-warriors were all but guaranteed immortality, their minds were never as resilient. Madness consumed them all. Xolaani, once a beloved and gifted healer, began using her hemomantic powers to control her brethren, and soon enough, the hatred between her and Aatrox boiled over into civil war.