As Magic the Gathering players settle down for the Winter, the inevitable blizzard which is Universes Beyond is threating a nuclear winter of new products and new IPs to feature. The last week has previewed not just the Fallout Secret layer, but also Jurassic Park cards, and a rather vague reveal of a Marvel crossover. This news is releasing alongside the previews for Lost Caverns of Ixalan, the next standard set, and related events on MTG Arena and Social Media.
---
Lost Caverns of Ixalan: Online Events and Special Guests
Releasing on November 14th, the buildup for Lost Caverns of Ixalan is underway, with spoiler season getting into gear and the plans for events being released. Over the next few weeks leading up to the release we can expect to have a better idea of how the set will affect Standard, Commander, Limited, and other formats; as well as more of the plans Wizards' has post-release.
The Release Schedule
Wizards' published an article detailing the structure for the next set's sealed product as well as the schedule leading up to release. The schedule below from the article includes all of the events as well as the date they will occur at.
Quote From Wizards of the Coast

The Lost Caverns of Ixalan Preview Events:

The Lost Caverns of Ixalan Story: October 20
The Lost Caverns of Ixalan Debut and Previews Begin: October 24
Card Image Gallery Complete: November 3
LoadingReadyRun's Pre-Prerelease: November 4
Streamer Event on MTG Arena: November 9
The Command Zone's Game Knights The Lost Caverns of Ixalan Commander Gameplay: November 15
Global Tabletop Launch: November 17

The Lost Caverns of Ixalan Gameplay Events:

Prerelease at Your Local Game Store: November 10
MTG Arena Release: November 14
WPN Game Store Open House: November 17–19
Friday Night Magic: November 17–January 26
Commander Nights: November 9–February 1
WPN Store Championship: December 2–10
WPN Commander Party: December 15–17
Alchemy: Ixalan Release: December 5
A few of these events have already happened, such as the story published as articles on Wizards' news page and the preview event. Spoiler season started on the 24th and will continue until November 2nd, with a complete list of official sources and dates available in an article by Wizards.
Universes Beyond and Neon Arts: What to Expect from Sealed Ixalan
The common theme of this article will be Universes beyond, as Wizards announced not one, not two, but three different Universes Beyond products and partnerships this week. The second of these partnerships, Jurassic Park, will be releasing alongside Lost Caverns of Ixalan, being available in some Set Boosters and all Collectors Boosters. Jurassic Park cards will not be the only non-Ixalan cards releasing in the set, as Special Guests and Treasure Troves, reprints of valuable or staple cards with new arts, will be available in Collectors Boosters and Box Toppers.'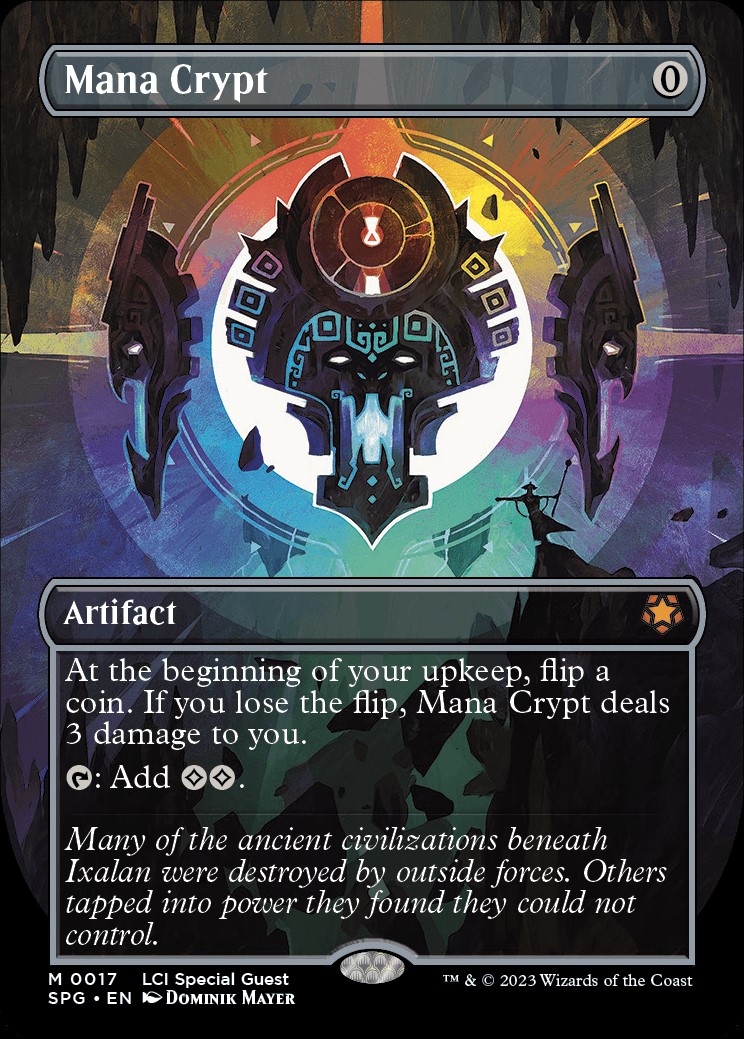 Lost Caverns of Ixalan will also feature "neon ink" cards - previously seen in Kamigawa Neon Dynasty where they were very hyped - only available in Collectors Boosters. In Kamigawa there was a different rarity for each color of neon with "Premium" WPN stores getting access to the yellow ink Hidetsugu, Devouring Chaos. In Lost Caverns of Ixalan Wizards is taking a different approach, choosing the color neutral Mana Crypt and Cavern of Souls to be displayed in five different neon colors representing each color in Magic.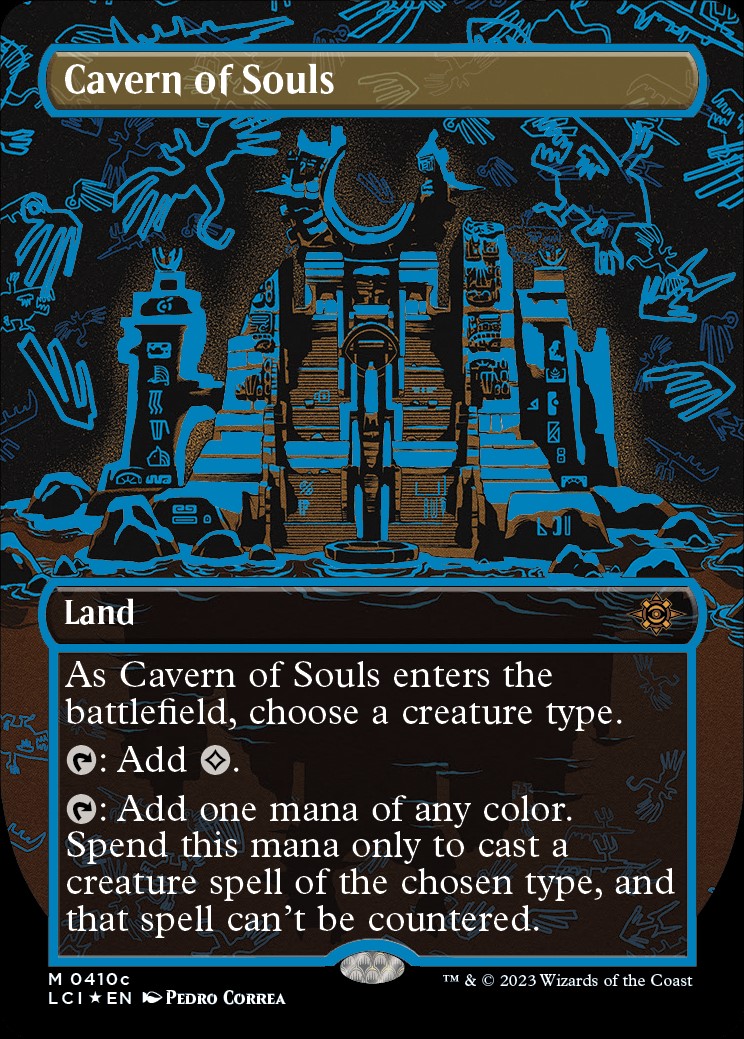 Lost Caverns of Ixalan and Arena
Lost Caverns of Ixalan will be releasing on Arena November 14th, with the Alchemy set releasing on December 5th. There will likely be smaller events on Arena corresponding with release. There will also be Play, Booster, and Pass Bundles available in the shop, featuring card sleeves and various other items.
---
Universes Beyond: Fallout, Jurassic Park, and Marvel
In what has been by far the busiest week for Universes Beyond since the controversy over the Walking Dead Secret Lair, Wizards has announced Fallout Commander decks, Jurassic Park in Lost Caverns of Ixalan, and their partnership with Marvel. While the debate has mostly settled, there is no doubt that this week is the biggest news for Universes Beyond since its initial announcement, and it likely preludes a more frequent release schedule for Universes Beyond products.
Fallout Commander Decks
In an article last week Wizards announced four new Fallout themed Commander decks like the Dr. Who and Warhammer decks. Releasing on March 8th of next year, Universes Beyond: Fallout will feature several cards, reprints, and a new showcase art: 'Pip-Boy.' Several Commander staples such as Sol Ring and Arcane Signet are getting new borderless Fallout reprints. The individual commanders and some singles have already been spoiled in the announcement article, and more spoilers can be expected closer to release.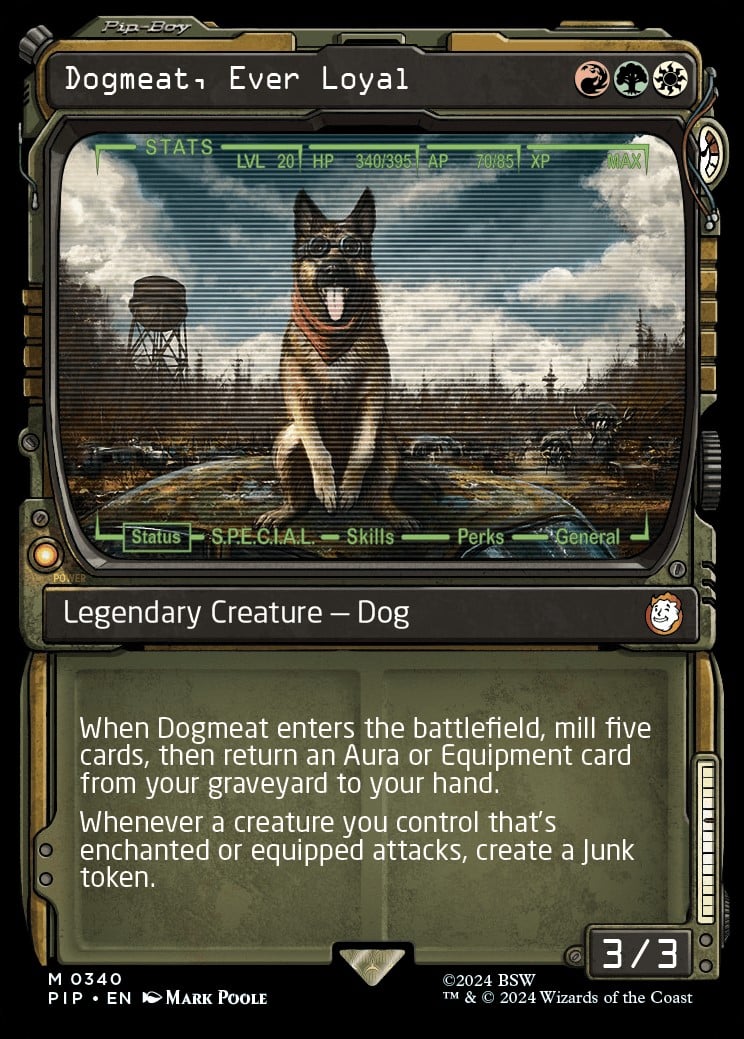 Jurassic Park Singles in Set & Collectors Boosters
Wizards announced alongside the Lost Caverns of Ixalan reveal the second Universes Beyond product this week: Jurassic Park. Available in Set Boosters and Collectors Boosters, is a mesh of new cards and reprints. There will 26 total cards in this set-within-a-set, 20 of which have new mechanics. The final talking point of the Jurassic Park mini-set are the new emblem foils, which feature the Jurassic Park logo as a foil and are in 1% of Collectors Boosters.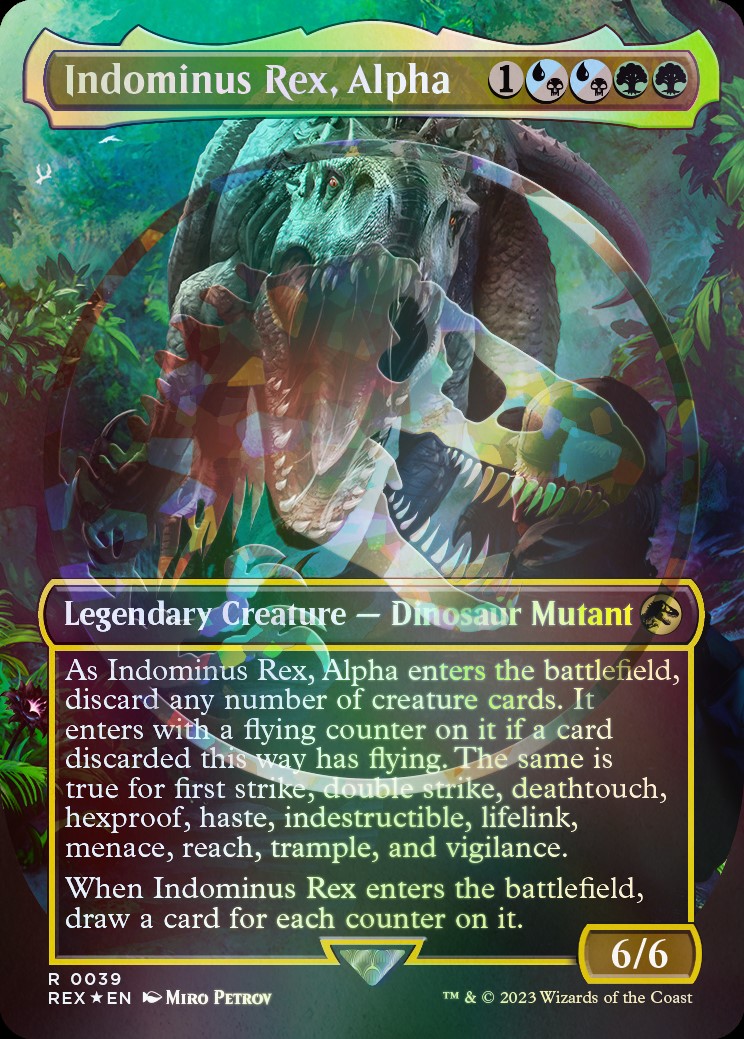 The Marvel Partnership
In announcement/video Wizards revealed its biggest partnership yet: Universes Beyond: Marvel. Officially we do not know much about this partnership, except that it has been years in the making. We will likely be waiting a year or two more for an actual product to be released, and based on the scale of the project, the product released will likely be much larger than a set of Commander decks.
I wish there was more to say about this massive news, but Wizards has not said much of anything about the partnership except for its existence. When more is known officially about this partnership a more in depth article will be made.
---
This Week in Arena: New Features and Events
Other than the already discussed Ixalan announcements, Wizards has announced in their weekly article a new feature and events on Arena this week. The new feature being added to Arena is the ability to favorite style or printing for each card. You will need to have collected the printing or style before you can favorite it, and you can filter between collected and uncollected printings and styles.
Shadows Over Innistrad Remastered: Return of Fatal Flashback
Until the 1st of November the Shadows Over Innistrad Remastered limited formats, featuring the Fatal Flashback theme cards, will be available on Arena. The Shadows Over Innistrad Remastered set features cards from the original Innistrad block, and each individual pack will feature one card from the Fatal Flashback list (available in the article).
Arena Open: Wilds of Eldraine Limited
The two day Arena Open will take place on the 28th and 29th, a good performance on the first day will lead to an invitation to the second day of the event. Participation will win the Mak Fawa card sleeve and the potential for a 2000$ reward on the Second day.
The window for participation for the first day is 6:00 AM PT and will continue until 3:00 AM PT the next day. The second day will only last from 6:00 AM to 8:00 AM PT.
---
Conclusion
This week is but the prelude to a busy spoiler season for Lost Caverns of Ixalan, and all of the various products releasing alongside it. Expect more articles in the future covering the new standard set and Universes Beyond Products as we learn more about them.