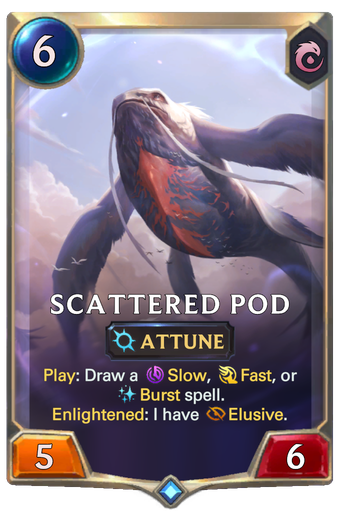 ---
Card Stats
---
Card Text
Play: Draw a Slow, Fast, or Burst spell. Enlightened: I have Elusive.
---
Keywords
Attune - When I'm summoned, refill 1 spell mana.
Burst - Burst spells resolve instantly. The enemy can't act before it finishes.
Elusive - Can only be blocked by an Elusive unit.
Enlightened - You're Enlightened when you have 10 max mana.
Fast - Fast spells can be played at any time, but allow the opponent to respond.
Slow - Slow spells can be cast outside of combat and other casting. The enemy can respond.
---
Flavor Text
The strange and hauntingly beautiful sky-songs of the Cloud Drinkers kept some of the Black Mist at bay... but only for so long.