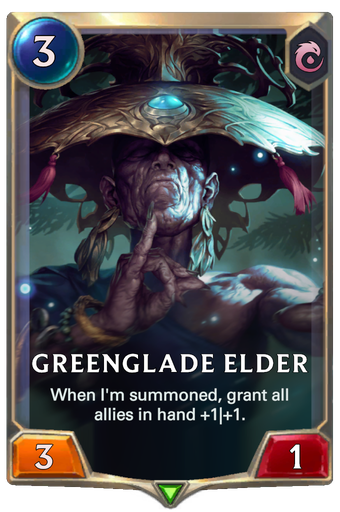 ---
Card Stats
Region Ionia
Expansion Foundations
Rarity Common
Cost 3
Attack 3
Health 1
---
Card Text
When I'm summoned, grant all allies in hand +1|+1.
---
Keywords
Burst - Burst spells resolve instantly. The enemy can't act before it finishes.
Elusive - Can only be blocked by an Elusive unit.
Enlightened - You're Enlightened when you have 10 max mana.
Ephemeral - This unit dies when it strikes or when the round ends.
Fast - Fast spells can be played at any time, but allow the opponent to respond.
Imbue - These abilities trigger when you resolve a spell.
Lifesteal - Damage this unit deals heals its Nexus that amount.
Quick Attack - While attacking, strikes before its blocker.
Recall - Return a unit to hand and remove all effects applied to it.
Round End - Get this effect when the round ends.
Stun - Remove a unit from combat. It can't attack or block for the rest of the round.
Support - Attacking with a support unit will buff the unit to its right.
---
Flavor Text
Ionian knowledge is outlined in the written word, but it is the tales and teachings of Ionia's venerated elders that give ancient text new life.
---
Related Cards