Today's Nintendo Direct was 40 minutes of love for the Nintendo Switch. Here's everything we learned today!
All links inside of this post that go to Amazon are affiliate links. As an Amazon Associate, Out of Games earns from qualifying purchases.
---
Pre-Order Today's Direct Games on Amazon
You can find most of today's games already on Amazon. Get a pre-order in (pay when it ships) and play it physically day 1.
---
New Pokemon Scarlet & Violet DLC - The Hidden Treasure of Area Zero
[Buy Pokemon Scarlet on Amazon] [Buy Pokemon Violet on Amazon]
Not newly announced but we do have more information now on The Hidden Treasure of Area Zero DLC!
Part 1 - The Teal Mask
The Teal Mask is part 1 of the new DLC.
Kitakami is a new countryside area that we'll get to explore. We're here due to a school trip.
We'll meet two new friends - Kieran & Carmine when we get to the new area.
The Festival of Masks is taking place in Kitakami.
Three Pokemon helped to protect the land from an evil ogre (Ogerpon, a Legendary Pokemon).

These new Pokemon are Okidogi, Munkidori, & Fezandipiti.

No release date has been confirmed outside of "Fall 2023".
Part 2 - The Indigo Disk
The Indigo Disk is part 2 of the new DLC.
We're travelling to The Blueberry Academy, a sister school, as an exchange student.
Located in the middle of the ocean in a futuristic looking building.
The academy has their own Terrarium which has four distinct zones.
Terapagos is a new Legendary Pokemon. They resemble a turtle!
No release date has been confirmed outside of "Winter 2023".
New Event Coming to Pokemon Scarlet & Violet
Chest Form Gimmighoul!
5-Star Raid Battles have a rare chance of showcasing Shiny Chest Form Gimmighoul.
The event runs starting now and through July 2, at 4:59 PM Pacific.
New Mystery Gift
Enter the code "TREASUREHUNT" in Mystery Gift to receive 10x Nugget, 10x Rare Candy, & 1x Friend Ball.
Available through July 31, 7:59 AM Pacific.
---
Splatfest Returns - Icecream!
Starts July 14, 2023 at 5 PM Pacific.
Ends July 16, 2023 at 5 PM Pacific.
The theme is "Which flavor of ice cream is best?"

Options are Vanilla, Strawberry, and Mint Chip.
Is this even playable with Chocolate not being an option?
---
Detective Pikachu Returns
Tim Goodman and Pikachu return in this mystery-solving sequel.
More information to be revealed at a later date.
Releases October 6, 2023.
---
Super Mario RPG
A remake of the original game is coming to Nintendo Switch.
Releases November 17, 2023.
---
Untitled Princess Peach Game
Princess Peach gets her own game!
Releasing in 2024.
---
Luigi's Mansion Dark Moon
Originally released on the 3DS, it is getting a Nintendo Switch graphical overhaul.
Releasing in 2024.
[That Gallery Doesn't Exist]
---
Pikmin 4
Fix the radar to open new areas to explore.
We can now go on adventures at night time, a series first.
Rescue castaways to do more activities at your basecamp.
Oatchi is your pet and we can teach him tricks.
Use Oatchi to smash obstacles, go for a swim, and help carry items with Pikmin.
New equipment can be created to help with our adventure.
Dandori Battle is a mini-game that allows two players to fight to see who can collect the most objects.
Releases on July 21, 2023.
A demo will be made available on June 28, 2023.
---
Pikmin 1 & 2
Originally launched on the Gamecube, the first two Pikmin games have been remastered.
Releasing later today!
---
Mario Kart 8 Deluxe - Wave 5 Booster Course DLC
Releasing Summer 2023. Here's the new info we know.
Courses

Squeaky Clean Sprint (Brand New)

Characters

Petey Piranha (Double Dash)
Wiggler (Mario Kart 7)
Kamek (Mario Kart Tour)
---
WarioWare Move It!
Releases on November 3, 2023.
Strap your joy-cons on because we're movin' and groovin'!

Oh yeah, we're moving for these micro games.

Play with a friend in 2 player mode. (Two sets of joycons required)
A board game is available to play with up to 4 players.
There are over 200 micro games.
---
New Zelda Amiibos
Princess Zelda and Ganondorf are both getting Amiibos for Tears of the Kingdom "Holiday 2023".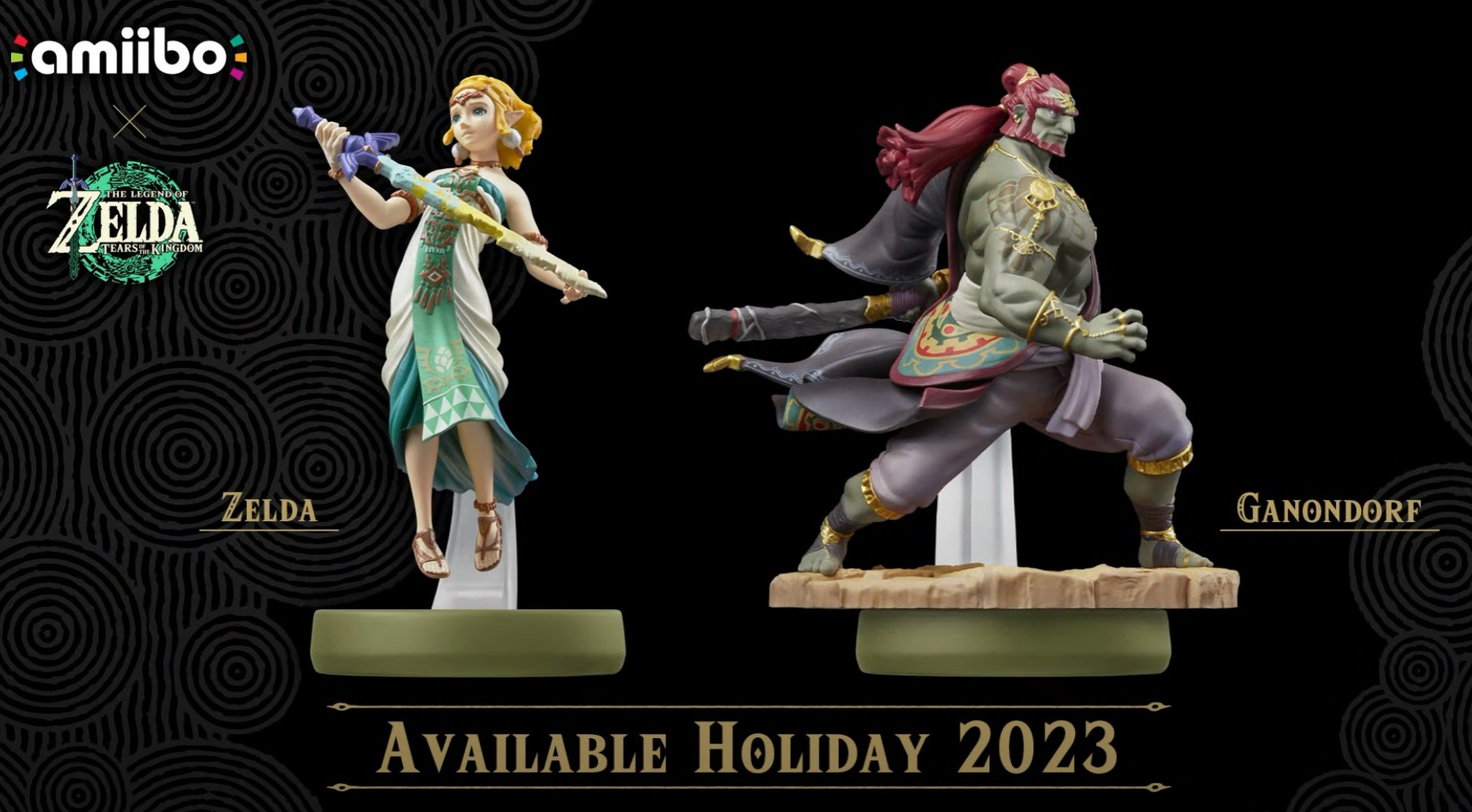 ---
New Mario Game: Super Mario Bros. Wonder
Wonder Flowers when touched will cause unexpected changes to the world around you in Super Mario Bros. Wonder. The game releases on October 20, 2023.
---
And More!
Sonic Superstars (Fall 2023)

Side-scrolling gameplay just like the original Sonic games.
Sonic, Tails, Knuckles, and Amy Rose are all playable characters.
Use Chaos Emeralds to summon a "Storm of Clones".
There is local 4-player co-op! Now I just need some friends.

Palia (Holiday 2023)

Free-to-play adventure simulation.
Build houses, decorate, and grow crops in your garden.
Play with other people in online co-op.
Leave the village to explore Palia's mysteries.

Persona 5 Tactica (November 17)

The crew ends up in an unfamiliar world.
We're going to combat against those that took over the world.
You get an extra action when you knock enemies down.
Persona fusing! Combine your personas to create new ones.

Mythforce (2023)

A first-person rogue-like adventure.
High-fantasy world that is inspired by Saturday morning cartoons.
Stop the evil from taking over.
Legendary magic, medieval weapons.
Up to 4 players can play together in online co-op.

Batman Arkham Trilogy (Fall 2023)

Arkham Asylum, Arkham City, & Arkham Knight are coming to Switch.
All DLC is included in this complete package.

Gloomhaven (September 18, 2023)

Now coming to Nintendo Switch
Play as 17 different mercenaries.
Complete over 260 missions.
Master over 1000 abilities.

Just Dance 2024 Edition (October 24, 2023)

40 new tracks.
Latin, K-Pop, and Hip-Hop are all genres getting new songs.
Just Dance+, the subscription service, will work with the new game.

Silent Hope (October 3, 2023)

An action RPG with seven playable heroes.
This peaceful realm was silenced by its king. No more talking!
Our goal? Conquer the Abyss and find the king!
Craft new items from the materials you gather during your time in dungeons.
New items means more power which will let us dive deeper into the Abyss.
The princess is our guide. She can communicate with us while she is trapped within her own tears.

Fae Farm (September 8, 2023)

Use magic to complete tasks and fend off foes.
Grow your farm to progress.
Decorate your space to improve your stats.
Play with up to 4 players in online co-op.

Hot Wheels Unleashed 2 - Turbocharged (October 19, 2023)

Over 130 vehicles.
Stunts, obstacles, shortcuts.
Modify your vehicles and build your own tracks.
Split screen co-op lets you play with another person locally.
Play online with up to 12 people on the same track.

Manic Mechanics (July 13, 2023)

Grab parts, fix them, and toss them to each other.
This is a different take on Overcooked, but instead of cooking meals, we're repairing cars.

Mario + Rabbids Sparks of Hope DLC

A new DLC brings us to a musical planet.
Launches today!
If you haven't played the main game, a demo is available in the eShop.

Dragon Quest Monsters The Dark Prince (December 1, 2023)

Monsters roam the land, we're here to get our revenge.
Become a monster wrangler.
Combine monsters to create the ultimate beasts.

Metal Gear Solid Master Collection Volume 1 (October 24, 2023)

Metal Gear Solid 1, 2, & 3.
Metal Gear, Metal Gear 2.
NES Snake Eater.
Metal Gear Solid Graphic Novel.

Vampire Survivors (August 17, 2023)

Now coming to Nintendo Switch.
4 player local co-op!

Star Ocean The Second Story R (November 2, 2023)

A remake of the original game.
Updated graphics fuse 2D and 3D.