We've got a featured location in MARVEL SNAP and it's Hellfire Club!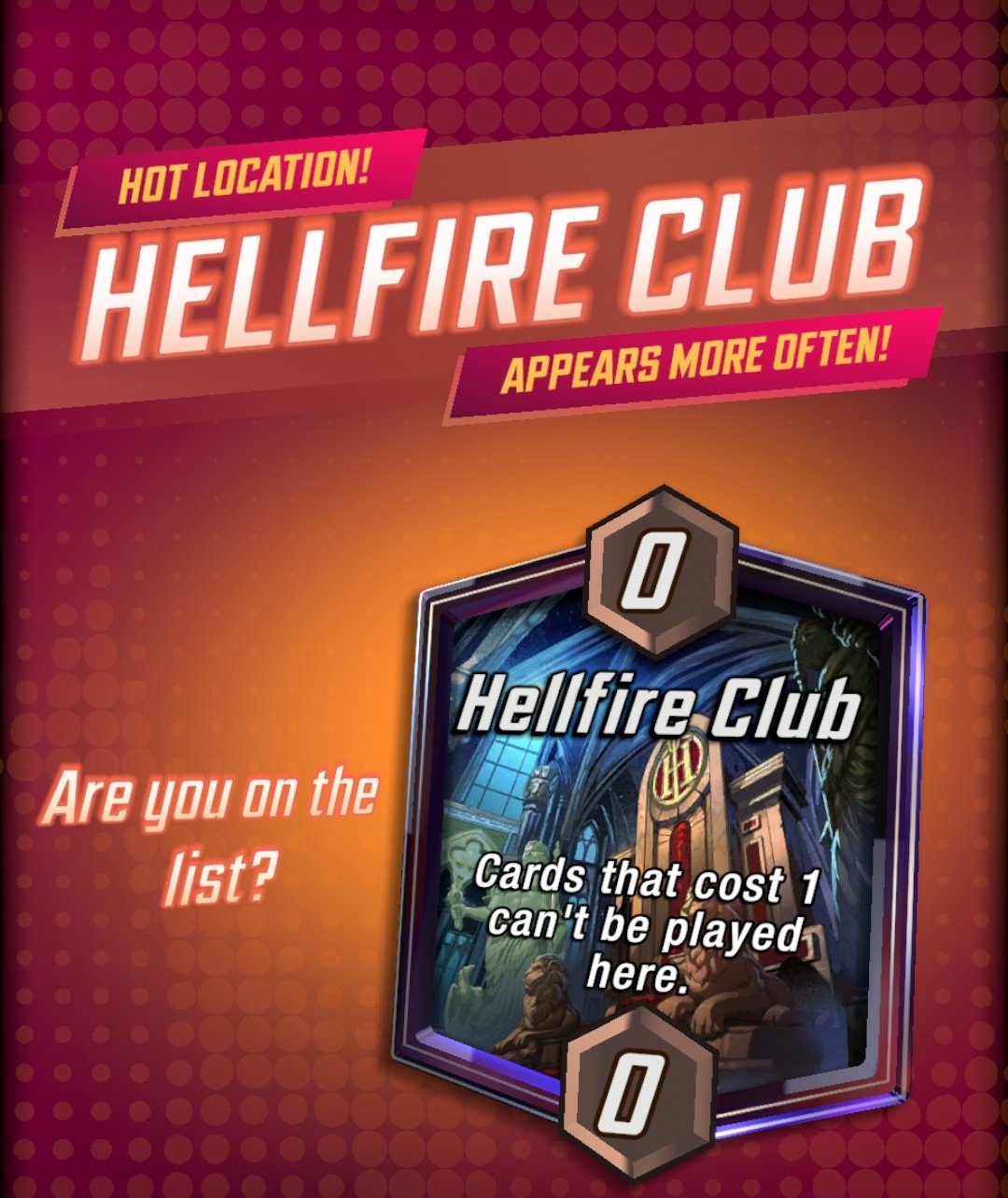 Hellfire Club is an existing location being featured in MARVEL SNAP as part of the July Season: Rise of the Phoenix. Cards that cost 1 can't be played there.
MARVEL SNAP's hottest club is Hellfire. Located in the drive-thru of a condemned Taco Bell, Hellfire Club is the brainchild of Elton John's other Jewish cousin Harold Goldfarb. And this place has everything: scrunchies, dump juice, a man who turns into a lizard...
However you choose to plan for the featured location, you'd better get used to it; being a featured location means that Hellfire Club will have a 50% chance to appear for 24 hours, from 8 PM PT Tuesday night to 8 PM PT Wednesday night (2 AM UTC Wednesday to 2 AM UTC Thursday).
---
What Are Featured Locations in MARVEL SNAP?
There are two different types of location events in MARVEL SNAP, both of which have a 50% chance of appearing for the next 24 hours.
Sunday's Hot Location that always pulls from existing locations.
Wednesday's Featured Location that usually shows off new locations, but will pull from the pool of existing locations from time to time.
This helps pave way for new deckbuilding strategies as you may want to be playing something else should the bonus better benefit cards you aren't playing with. We've seen this previously with the featured location, Monster Island, whose boosted appearances meant many players ran Shang-Chi to destroy the 9 Power Monster.
---
Hot Decks for Hellfire Club
If you're looking for ideas of what decks you can play to the Featured Location, we've got you covered: with recommended decks for players just starting out in Series 1, players still moving up through Series 2, and players who are starting to fill their collections with cards from Series 3, 4, and 5.
---
Series 1 Watcher
---
Series 2 Jubilee
---
Series 3 Sauron
---
Series 3 Sera Control
---
Series 3 Orkontrol
---
What do you think of Hellfire Club? Have your own ideas for taking advantage of the featured location? Let us know in the comments below!