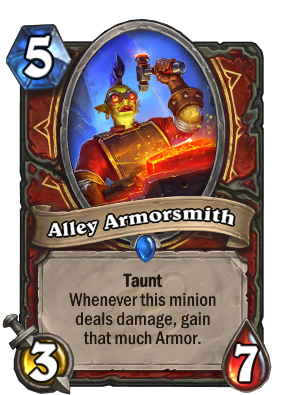 ---
Card Stats
---
Card Text
Taunt Whenever this minion deals damage, gain that much Armor.
---
Flavor Text
The rent is cheap and she passes the savings onto YOU!
---
Keywords
Taunt - Enemies must attack this minion.
---
Alley Armorsmith Sounds
Play AlleyArmorsmith_Underlay_Play
Attack VO_CFM_756_Female_Orc_Attack_01
Attack AlleyArmorsmith_Underlay_Attack
Death VO_CFM_756_Female_Orc_Death_01
Death AlleyArmorsmith_Underlay_Death
---
Game Accessories
Armor
Armor Up!
Armored Up
Armored Up
Armory
Protection
Protectors
Tank Up!
Taunt
Taunt
Vanguard
---
Card Balance and Changes