Killmox, the Banished One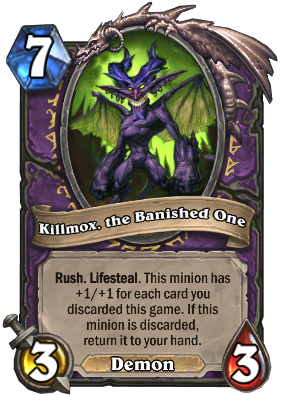 ---
Card Stats
---
Card Text
Rush. Lifesteal. This minion has +1/+1 for each card you discarded this game. If this minion is discarded, return it to your hand.
---
Flavor Text
You don't want to know what he's smiling about.
---
Keywords
Lifesteal - Damage dealt also heals your hero.
Rush - Can attack minions immediately.
---
Killmox, the Banished One Sounds
Play Imp_DAL_751t_Play
Attack Imp_DAL_751t_Attack
Attack WingFlapTiny_Underlay_Play
Death Imp_DAL_751t_Death
Death WingFlapTiny_Underlay_Attack