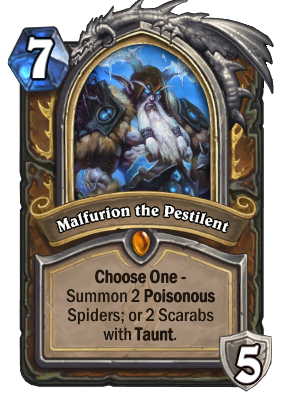 ---
Card Stats
---
Card Text
Choose One - Summon 2 Poisonous Spiders; or 2 Scarabs with Taunt.
---
Flavor Text
"Cenarius once taught me about the precarious balance between life and death. I have come to understand: there IS no balance. Death always wins."
---
Keywords
Poisonous - Destroy any minion damaged by this.
Taunt - Enemies must attack this minion.
---
Malfurion the Pestilent Sounds
Play VO_ICC_832_Male_NightElf_Play_03
Attack VO_ICC_832_Male_NightElf_Attack_01
Death VO_ICC_832_Male_NightElf_Death_01
---
Malfurion the Pestilent Emotes
Show Emotes
Greeting VO_MalfurionDeathknight_Male_NightElf_Greetings_01
Well Played VO_MalfurionDeathknight_Male_NightElf_Well Played_02
Oops VO_MalfurionDeathknight_Male_NightElf_Oops_01
Threaten VO_MalfurionDeathknight_Male_NightElf_Threaten_02
Thanks VO_MalfurionDeathknight_Male_NightElf_Thanks_01
Concede VO_MalfurionDeathknight_Male_NightElf_Concede_01
Rope VO_MalfurionDeathknight_Male_NightElf_Time_01
Thinking 2 VO_MalfurionDeathknight_Male_NightElf_Thinking_03
Thinking 3 VO_MalfurionDeathknight_Male_NightElf_Thinking_05
GAMEPLAY_EMOTE_ICC_832_LOW_CARDS VO_MalfurionDeathknight_Male_NightElf_LowCards_01
GAMEPLAY_EMOTE_ICC_832_NO_CARDS VO_MalfurionDeathknight_Male_NightElf_NoCards_01
Wow VO_MalfurionDeathknight_Male_NightElf_WOW_01
---
Related Cards
Scarab Plague
Spider Plague
Plague Lord
Scarab Beetle
Scarab Shell
Spider Fangs
Frost Widow
---
Malfurion the Pestilent Guides
---
Game Accessories
Choices, Choices
Choices, Choices
Fangs
Taunt