Cloneball!
The legends of Azeroth are playing Cloneball! Your team is random legends, each cloned four times! Go get 'em champ!
---
How It Works
Choose a class: your deck will consist of 4 copies of 7 different Legendary minions.

The minions can be Neutral or from your selected class.

At the start of turns 1, 3, and 5, you'll be given a copy of Offensive Play which reduced the cost of the next Legendary played.

The effect does include the copies of the Legendary, and it does stack.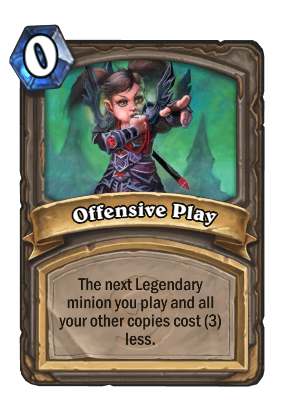 ---
Trivia
---
When We've Seen Cloneball!
| Week | Started | Ended | Reward |
| --- | --- | --- | --- |
| Week #52 | Tuesday, June 07, 2016 | Saturday, June 11, 2016 | 1x Classic Pack |
| Week #89 | Tuesday, February 21, 2017 | Saturday, February 25, 2017 | 1x Classic Pack |
| Week #154 | Tuesday, May 22, 2018 | Saturday, May 26, 2018 | 1x Classic Pack |
| Week #205 | Wednesday, May 15, 2019 | Monday, May 20, 2019 | 1x Classic Pack |
| Week #258 | Wednesday, May 20, 2020 | Wednesday, May 27, 2020 | 1x Classic Pack |
| Week #294 | Wednesday, January 27, 2021 | Wednesday, February 03, 2021 | 1x Classic Pack |
| Week #324 | Wednesday, August 25, 2021 | Wednesday, September 01, 2021 | 1x Year of the Phoenix Pack |
| Week #340 | Wednesday, December 15, 2021 | Wednesday, December 22, 2021 | 1x Year of the Phoenix Pack |
| Week #374 | Wednesday, August 10, 2022 | Wednesday, August 17, 2022 | 1x Standard Pack |
| Week #360 | Wednesday, May 04, 2022 | Wednesday, May 11, 2022 | 1x Standard Pack |