Yellow-Brick Brawl
Each player is given Dorothee, which grants Charge to minions on one side and Taunt to the other. Build a 10 card deck and we'll give you three copies of each!
---
How It Works
Create a deck with 10 unique cards for any class. Each card will be copied three times to give you a 30-card deck.
Both players will start with 30 Health and 10 Armor.
Both players have Dorothee on the board, granting Charge or Taunt to the minions depending on which side of her they are played.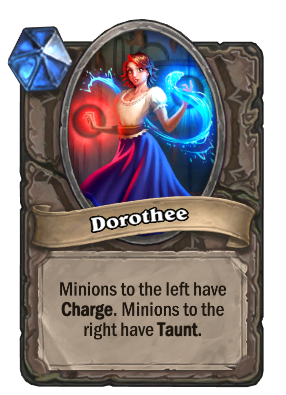 ---
Trivia
---
Hot Decks for Yellow-Brick Brawl
---
When We've Seen Yellow-Brick Brawl
| Week | Started | Ended | Reward |
| --- | --- | --- | --- |
| Week #73 | Tuesday, November 01, 2016 | Saturday, November 05, 2016 | 1x Classic Pack |
| Week #130 | Wednesday, December 06, 2017 | Saturday, December 09, 2017 | 1x Classic Pack |
| Week #412 | Wednesday, May 03, 2023 | Wednesday, May 10, 2023 | 1x Standard Pack |