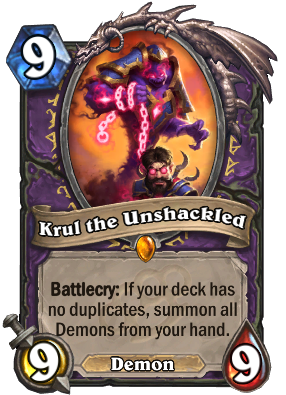 ---
Card Stats
---
Card Text
Battlecry: If your deck has no duplicates, summon all Demons from your hand.
---
Flavor Text
Spicklefizz pondered his life choices as he looked at the chain around his neck. "Become a warlock," they said. "You get to enslave demons," they said.
---
Keywords
Battlecry - Does something when you play it from your hand.
---
Krul the Unshackled Sounds
Play VO_CFM_750_Male_VoidWalker_Play_01
Play Mysterious_Play_Stinger_1
Play RazaTheUnchained_Underlay_Play
Attack VO_CFM_750_Male_VoidWalker_Attack_01
Attack RazaTheUnchained_Underlay_Attack
Death VO_CFM_750_Male_VoidWalker_Death_01
Death RazaTheUnchained_Underlay_Death
---
Game Accessories
Unique
---
Card Balance and Changes