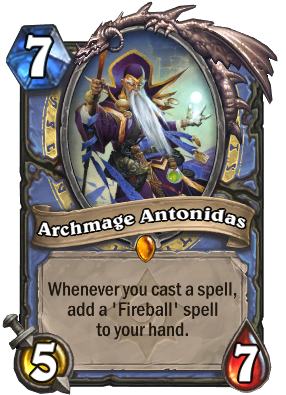 ---
Card Stats
---
Card Text
Whenever you cast a spell, add a 'Fireball' spell to your hand.
---
Flavor Text
Antonidas was the Grand Magus of the Kirin Tor, and Jaina's mentor. This was a big step up from being Grand Magus of Jelly Donuts.
---
Archmage Antonidas Sounds
Ability VO_EX1_559_Trigger_02
Play VO_EX1_559_Play_01
Play Pegasus_Stinger_Alliance
Attack VO_EX1_559_Attack_03
Death VO_EX1_559_Death_04
---
Archmage Antonidas Guides
---
Game Accessories
BURN!
Gurubashi Legends
Legends
Legends
Magical Friends
Magical Friends
Magical Friends
Mighty Minions
Multi-Cast
Spell Lovers
Spell Searching