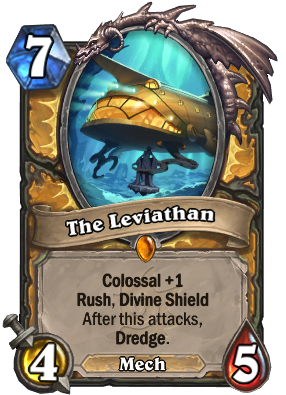 ---
Card Stats
---
Card Text
Colossal +1 Rush, Divine Shield After this attacks, Dredge.
---
Flavor Text
Built by Ini Stormcoil, this massive vessel can withstand almost anything you put it through... although she would prefer you didn't!
---
Keywords
Colossal - Enters the battlefield with +X tokens.
Divine Shield - The first time a Shielded minion takes damage, ignore it.
Dredge - Look at the bottom 3 cards of your deck. Put one on top.
Rush - Can attack minions immediately.
---
Related Cards
The Leviathan's Claw