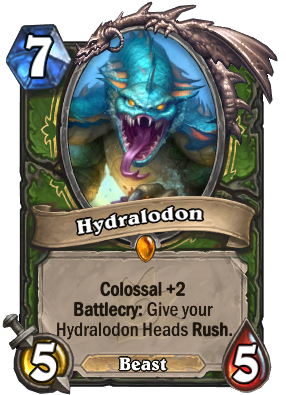 ---
Card Stats
---
Card Text
Colossal +2 Battlecry: Give your Hydralodon Heads Rush.
---
Flavor Text
Deep beneath the waves, this hydra grew to incredible size based on a steady diet of literally anything that crossed its path.
---
Keywords
Battlecry - Does something when you play it from your hand.
Colossal - Enters the battlefield with +X tokens.
Rush - Can attack minions immediately.
---
Related Cards
Hydralodon Head
Hydralodon Head