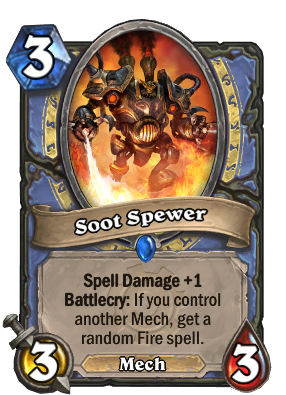 ---
Card Stats
---
Card Text
Spell Damage +1 Battlecry: If you control another Mech, get a random Fire spell.
---
Flavor Text
The inventor of the goblin shredder is involved in several patent disputes with the inventor of the soot spewer.
---
Keywords
Battlecry - Does something when you play it from your hand.
Spell Damage - Your spells deal extra damage.
---
Soot Spewer Sounds
Attack SFX_GVG_123_Attack
Death SFX_GVG_123_Death
Play SFX_GVG_123_EnterPlay
---
Game Accessories
BURN!
Mechs
Overclocked
Powered Up
Spell Damage
Technology
---
Card Balance and Changes
| Patch | Change |
| --- | --- |
| Battlegrounds Season 5 | Health increased to 4 (from 3). Now has the Battlecry "If you control another Mech, get a random Fire spell." |