Splintergraft Token Druid
[Hearthstone Card (CardID or Name) Not Found]
Hello everyone!
Do you have Splintergraft lying in your collection useless?
Do you enjoy playing meta decks, but with a twist?
Then this deck is for you!
The main game-plan here is to swarm a board with Cheap Tokens, buff them and Smorc the opponent. If that fails we can use Splintergraft and 0 cost Mulchmuncher to unleash 26/26 in stats as early as turn 9 or 10.
I'm preforming really good with it right now, mabye only 1 or 2 loses. In 4 days of playing. Most people don't expect suchbig minions from a token deck.
General Mulligan:
-Always keep: Acornbearer, Landscaping and Dreamway Guardians
-Never keep: Soul of the Forest, Splintergraft, Mulchmuncher and Giggling Inventor
Always keep Wardruid Loti against Mages. (For Mountain Giant)
Card choices: (WIP)
- Acornbearer. Solid 1-drop. Generates tokens, staple in this deck.
-Dendrologist. Discovering a spell is always good.
-Dreamway Guardians Token generator, Lifesteal is useful a lot of the times.
-EVIL Cable Rat Lackeys are good.
Possible changes:
-1 Soul of the Forest, +1 Force of Nature or Cenarius. There were situations, where Soul of the Forest was clogging my hand. But overall having 2 of these helps more than it harms.
If this deck interested you, consider leaving a +1. Thank you!
Further guide (mulligans, more card changes, card choices and other features once we reach 10 Upvotes)
May the RNG be with you!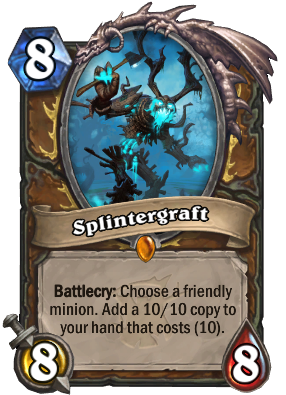 Vote On This Deck!
Enjoy this deck guide? Help others find it and show your support to the author by giving it an upvote!
18
---
More Token Druid Decks
---
More Decks From Superkowboj1