Ragnaros' Fire Festival
Defeat your opponent, but if you feed an ever-growing, minion-eating, tiny Fire Lord, there may be a reward in it for you!
---
This Tavern Brawl requires tavern patrons to create their own decks to battle each other. The unique mechanic is a Mini Ragnaros that switches sides of the board and deals damage to each player.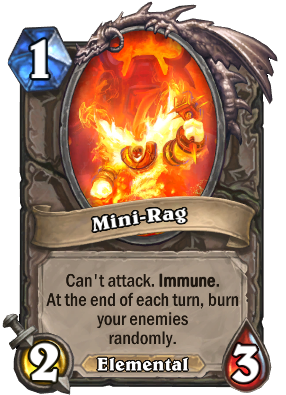 ---
How it Works
Each time a minion dies, Mini Ragnaros will grow (Attack increases).
After Mini Ragnaros attacks, he will switch sides.
If the side of the board is full that Mini Ragnaros wants to move to, he will not move.
---
Neat Interactions
It is possible to get multiple Mini Ragnaros cards onto the field through clone, shuffle, and return to hand mechanics. If you return Mini Ragnaros to you or your opponent's hand, a new one will spawn when the turn ends.
Silencing Mini Ragnaros through an AOE silence spell like Mass Dispel will prevent a new Mini Ragnaros from spawning.
---
Unlocking the Fire Festival Fireworks Emote
There is a special emote available for the "wow" emote during the Fire Festival. By feeding Ragnaros, this will level up your available emote for the duration of the event.
8 minions killed
30 minions killed
60 minions killed
---
Hot Decks for Ragnaros' Fire Festival
---
When We've Seen Ragnaros' Fire Festival
| Week | Started | Ended | Reward |
| --- | --- | --- | --- |
| Week #108 | Tuesday, July 04, 2017 | Saturday, July 08, 2017 | 1x Classic Pack |
| Week #162 | Tuesday, July 17, 2018 | Saturday, July 21, 2018 | 1x Classic Pack |
| Week #317 | Wednesday, July 07, 2021 | Wednesday, July 14, 2021 | 1x Year of the Phoenix Pack |