The Void Singularity
Beyond the Void's event horizon, all your minions become crushed into a single powerful entity of light. Build a deck and sacrifice your minions to The Void!
---
How It Works
Choose a class and build your own deck.
At the end of a players turn, all their minions are destroyed and a Void Singularity with the destroyed minions' combined stats is summoned.

Deathrattles will trigger as normal.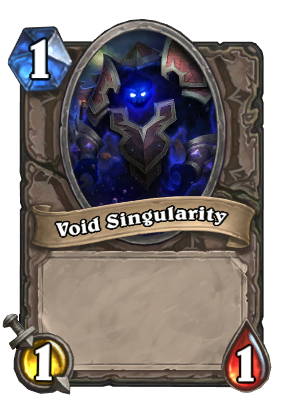 ---
Trivia
---
Hot Decks for The Void Singularity
---
When We've Seen The Void Singularity
| Week | Started | Ended | Reward |
| --- | --- | --- | --- |
| Week #129 | Tuesday, November 28, 2017 | Saturday, December 02, 2017 | 1x Kobolds & Catacombs Pack |
| Week #190 | Tuesday, January 29, 2019 | Saturday, February 02, 2019 | 1x Classic Pack |
| Week #429 | Wednesday, August 30, 2023 | Wednesday, September 06, 2023 | 1x Standard Pack |