Wacky Waxy Winter's Veil
Greatfather Kobold got a little carried away with the presents. He's wrapped up the strongest creatures and heroes in Azeroth! Free them!
---
Trivia
The Brawl's title used to refer to "Winter's Veil" but it was later changed to "Winter Veil".
---
How It Works
Build a 30 card deck for any of the 10 classes.
Both players start with four Large Waxy Gifts, and will get four more after a certain amount of turns.

NOTE: You should only pop the gifts on your opponent's side as unlike in Gift Exchange brawl, where the "current player" gets the contents, these gifts only reward "your opponent".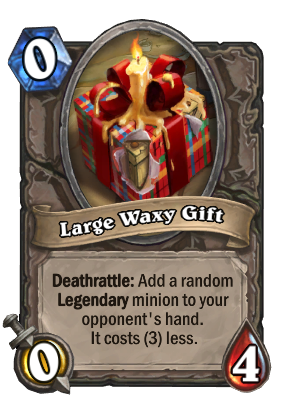 ---
Hot Decks for Wacky Waxy Winter's Veil
---
When We've Seen Wacky Waxy Winter's Veil
| Week | Started | Ended | Reward |
| --- | --- | --- | --- |
| Week #132 | Tuesday, December 19, 2017 | Saturday, December 23, 2017 | 3x Knights of the Frozen Throne Pack |
| Week #289 | Wednesday, December 23, 2020 | Wednesday, December 30, 2020 | 1x Classic Pack |
| Week #393 | Wednesday, December 21, 2022 | Wednesday, December 28, 2022 | 1x Standard Pack |
| Week #342 | Wednesday, December 29, 2021 | Wednesday, January 05, 2022 | 1x Year of the Phoenix Pack |