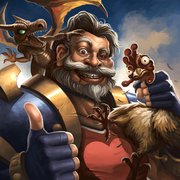 anchorm4n
The Cake Is A Lie
Joined 03/13/2019 Achieve Points 1780 Posts 2071
About anchorm4n
Started playing in Season 18, September 2015. Legend with Mech Hunter (Standard, Season 62), Darkest Hour Warlock (Wild, S73), Odd Paladin (W, S85), Odd Demon Hunter (W, S87), Secret Mage (W, S88 and S108), Questline Pirate Warrior (W, S89), Shadowburst Priest (W, S90, S92 and S93), Smol Beasts Druid (W, S94), Big Paladin (W, S96), Pirate Rogue (W, S97, S98, S112, S113 and S117), Copper Hunter (W, S109), Reno Blood Death Knight (W, S110), Even Shaman (W, S111 and S114), Questline Druid (W, S115 and S116), Midrange Hunter (Classic, S115), Undead Priest (S, S115), Questline Shaman (Twist, S117), Mech Mage (W, S118) and Discolock (W, S119). Still trying to have fun.
Winner of the Weekly Card Design Competions 2.01, 3.07 and 3.18.
Reigning Champion of the OoC Card Treasure Hunt - come join us!