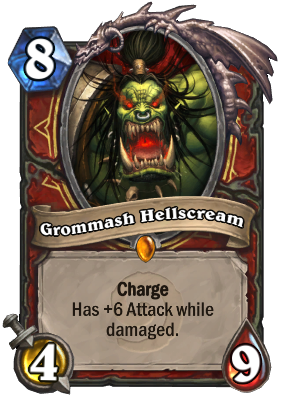 ---
Card Stats
---
Card Text
Charge Has +6 Attack while damaged.
---
Flavor Text
Grommash drank the tainted blood of Mannoroth, dooming the orcs to green skin and red eyes! Maybe not his best decision.
---
Keywords
Charge - Can attack immediately.
Enrage - While damaged, this minion has a new power.
---
Grommash Hellscream Sounds
Play VO_EX1_414_Play_01
Play Pegasus_Stinger_Horde1
Attack VO_EX1_414_Attack_02
Death VO_EX1_414_Death_03
---
Game Accessories
Attack!
Berserker
Berserker
Big Minions
Charge!
Combat Ready
Enraged
Legendary
Legendary
Legends
Rush
Rush