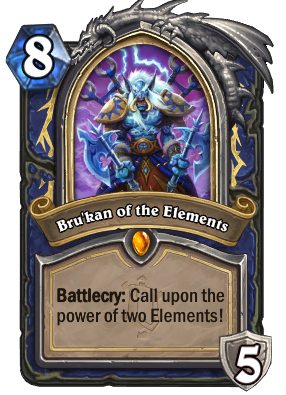 ---
Card Stats
---
Card Text
Battlecry: Call upon the power of two Elements!
---
Flavor Text
The elements crackled through Bru'kan's veins and his life flashed before his eyes. He knew this moment would come, but he wondered, had he given them enough?
---
Keywords
Battlecry - Does something when you play it from your hand.
---
Bru'kan of the Elements Sounds
Play VO_AV_258_Male_Troll_Play_01
Play HS_BrukanOfTheElements_Stinger
Attack VO_AV_258_Male_Troll_Attack_01
Death VO_AV_258_Male_Troll_Death_01
---
Bru'kan of the Elements Emotes
Show Emotes
Greeting VO_AV_258_Male_Troll_Greetings_01
VO_AV_258_Male_Troll_WellPlayed_01 VO_AV_258_Male_Troll_WellPlayed_01
Oops VO_AV_258_Male_Troll_Oops_01
Threaten VO_AV_258_Male_Troll_Threaten_01
Thanks VO_AV_258_Male_Troll_Thanks_01
Concede VO_PVPDR_Hero_Brukan_Male_Troll_Concede_01
Rope VO_PVPDR_Hero_Brukan_Male_Troll_Time_01
Thinking 3 VO_HERO_02s_Male_Troll_Thinking_03
VO_HERO_02s_Male_Troll_Thinking_04 VO_HERO_02s_Male_Troll_Thinking_04
Thinking 2 VO_HERO_02s_Male_Troll_Thinking_02
Deck Low VO_PVPDR_Hero_Brukan_Male_Troll_LowCards_01
Out of Cards VO_PVPDR_Hero_Brukan_Male_Troll_NoCards_01
Wow VO_AV_258_Male_Troll_Wow_01
Greeting VO_AV_258_Male_Troll_MIRROR_GREETINGS_01
---
Related Cards
Command the Elements
Earth Invocation
Earthen Guardian
Elemental Mastery
Fire Invocation
Lightning Invocation
Water Invocation
Earth Invocation
Fire Invocation
Lightning Invocation
Water Invocation
---
Bru'kan of the Elements Guides