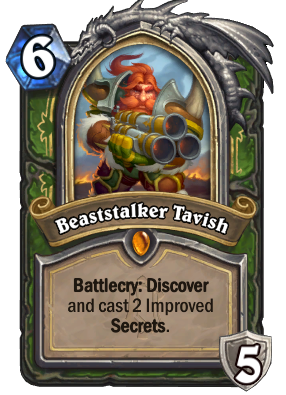 ---
Card Stats
---
Card Text
Battlecry: Discover and cast 2 Improved Secrets.
---
Flavor Text
Tavish left home to forge his own path. But it still led him back to Alterac to kick some Frostwolf butt.
---
Keywords
Battlecry - Does something when you play it from your hand.
Discover - Choose one of three cards to add to your hand.
Secret - Hidden until a specific action occurs on your opponent's turn.
---
Beaststalker Tavish Sounds
Play VO_AV_113_Male_Dwarf_Play_01
Play HS_BeastStalkerTavish_Stinger
Attack VO_AV_113_Male_Dwarf_Attack_01
Death VO_AV_113_Male_Dwarf_Death_01
---
Beaststalker Tavish Emotes
Show Emotes
Greeting VO_AV_113_Male_Dwarf_Greetings_01
VO_AV_113_Male_Dwarf_WellPlayed_01 VO_AV_113_Male_Dwarf_WellPlayed_01
Oops VO_AV_113_Male_Dwarf_Oops_01
Threaten VO_AV_113_Male_Dwarf_Threaten_01
Thanks VO_AV_113_Male_Dwarf_Thanks_01
Wow VO_AV_113_Male_Dwarf_Wow_01
Greeting VO_AV_113_Male_Dwarf_MIRROR_GREETINGS_01
Concede VO_PVPDR_Hero_Tavish_Male_Dwarf_Concede_01
Deck Low VO_PVPDR_Hero_Tavish_Male_Dwarf_LowCards_01
Out of Cards VO_PVPDR_Hero_Tavish_Male_Dwarf_NoCards_01
Thinking 1 VO_HERO_05n_Male_Dwarf_Thinking_01
Thinking 2 VO_HERO_05n_Male_Dwarf_Thinking_02
Thinking 3 VO_HERO_05n_Male_Dwarf_Thinking_03
Rope VO_PVPDR_Hero_Tavish_Male_Dwarf_Time_01
---
Related Cards
Huffer
Leokk
Misha
Improved Explosive Trap
Improved Freezing Trap
Improved Ice Trap
Improved Motion Denied
Improved Open the Cages
Improved Pack Tactics
Improved Snake Trap
Snake
Summon Pet
---
Beaststalker Tavish Guides