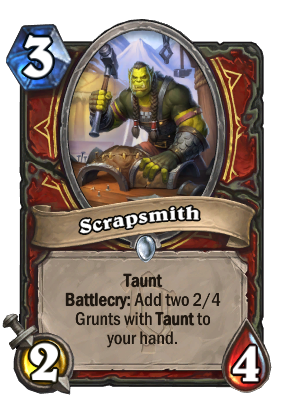 ---
Card Stats
---
Card Text
Taunt Battlecry: Add two 2/4 Grunts with Taunt to your hand.
---
Flavor Text
Takes the ugly scraps of armor from dead players and combines them into ridiculous looking PVP armor sets.
---
Keywords
Battlecry - Does something when you play it from your hand.
Taunt - Enemies must attack this minion.
---
Trivia
During the Fractured in Alterac Valley card reveal season, this card was uploaded to the official Hearthstone site as a Dwarf. (Art below)
According to Linus Flink, Senior Game Producer (Art), this was due to a late art change to the card. (Source)
---
Scrapsmith Sounds
Play VO_AV_323_Male_Orc_Play_01
Play AlleyArmorsmith_Underlay_Play
Attack VO_AV_323_Male_Orc_Attack_01
Attack AlleyArmorsmith_Underlay_Attack
Death VO_AV_323_Male_Orc_Death_01
Death AlleyArmorsmith_Underlay_Death
---
Related Cards
Scrappy Grunt