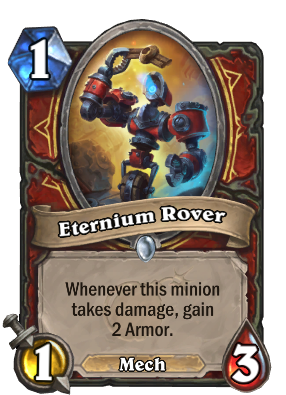 ---
Card Stats
---
Card Text
Whenever this minion takes damage, gain 2 Armor.
---
Flavor Text
He's all beeps and smiles but you're just a walking pile of armor to him.
---
Eternium Rover Sounds
Play VO_BOT_059_Male_Mech_Play_02
Play ClunkyMechSmall_Play_Underlay
Attack VO_BOT_059_Male_Mech_Attack_01
Attack ClunkyMechSmall_Attack_Underlay
Death VO_BOT_059_Male_Mech_Death_01
Death ClunkyMechSmall_Death_Underlay
---
Game Accessories
Armor Up!
Armored Up
Armored Up
Fervent Fans
Metalhead
Protection
Rust Buckets
Tank Up!
Wee Minions