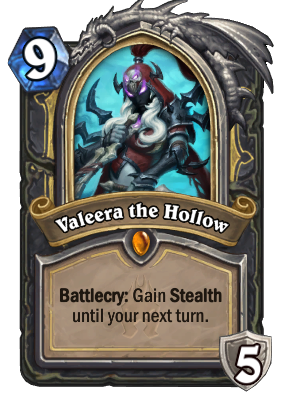 ---
Card Stats
---
Card Text
Battlecry: Gain Stealth until your next turn.
---
Flavor Text
"Run away. Hide in your precious keeps, behind your walls and your bodyguards. Night always falls, and shadows will fill your hallowed halls. One day, one of those shadows will be me."
---
Keywords
Battlecry - Does something when you play it from your hand.
Stealth - Can't be attacked or targeted until it attacks.
---
Valeera the Hollow Sounds
Play VO_ICC_827_Female_BloodElf_Play_01
Attack VO_ICC_827_Female_BloodElf_Attack_01
Death VO_ICC_827_Female_BloodElf_Death_01
---
Valeera the Hollow Emotes
Show Emotes
Greeting VO_ValeeraDeathknight_Female_BloodElf_Greetings_01
Well Played VO_ValeeraDeathknight_Female_BloodElf_Well Played_01
Oops VO_ValeeraDeathknight_Female_BloodElf_Oops_01
Threaten VO_ValeeraDeathknight_Female_BloodElf_Threaten_01
Thanks VO_ValeeraDeathknight_Female_BloodElf_Thanks_02
Concede VO_ValeeraDeathknight_Female_BloodElf_Concede_02
Rope VO_ValeeraDeathknight_Female_BloodElf_Time_01
Thinking 1 VO_ValeeraDeathknight_Female_BloodElf_Thinking_01
Thinking 2 VO_ValeeraDeathknight_Female_BloodElf_Thinking_03
Thinking 3 VO_ValeeraDeathknight_Female_BloodElf_Thinking_04
GAMEPLAY_EMOTE_ICC_827_LOW_CARDS VO_ValeeraDeathknight_Female_BloodElf_LowCards_01
GAMEPLAY_EMOTE_ICC_827_NO_CARDS VO_ValeeraDeathknight_Female_BloodElf_NoCards_01
Wow VO_ValeeraDeathknight_Female_BloodElf_WOW_02
---
Related Cards
Death's Shadow
Shadow Reflection
---
Valeera the Hollow Guides
---
Game Accessories
Bag of Tricks
Safety Measures
Shadow Reflection
Trickery
Trickery
Veil of Shadows