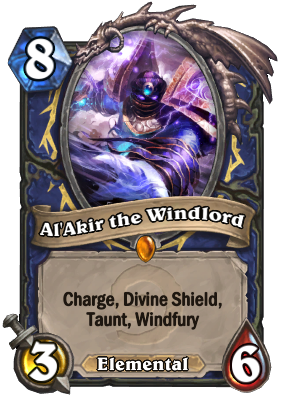 ---
Card Stats
---
Card Text
Charge, Divine Shield, Taunt, Windfury
---
Flavor Text
He is the weakest of the four Elemental Lords. And the other three don't let him forget it.
---
Keywords
Charge - Can attack immediately.
Divine Shield - The first time a Shielded minion takes damage, ignore it.
Taunt - Enemies must attack this minion.
Windfury - Can attack twice each turn.
---
Al'Akir the Windlord Sounds
Play VO_NEW1_010_Play_01
Play Pegasus_Stinger_Elemental_Villain
Attack VO_NEW1_010_Attack_02
Death VO_NEW1_010_Death_03
---
Al'Akir the Windlord Guides
---
Game Accessories
Big Shaman
Big Shaman
Divine Shield
Elementals
Elementals
Mighty Champions
Strike at Thee
---
Card Balance and Changes