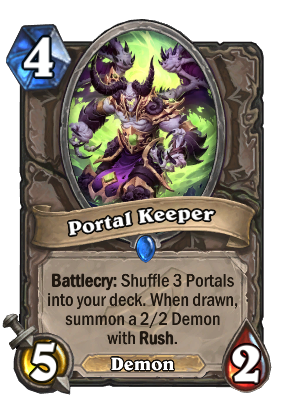 ---
Card Stats
---
Card Text
Battlecry: Shuffle 3 Portals into your deck. When drawn, summon a 2/2 Demon with Rush.
---
Flavor Text
No longer allowed to be "it" when playing demon tag.
---
Keywords
Battlecry - Does something when you play it from your hand.
Rush - Can attack minions immediately.
---
Portal Keeper Sounds
Play VO_DAL_582_Male_Dreadlord_Play_01
Play PortalOverfiend_Underlay_Play
Attack VO_DAL_582_Male_Dreadlord_Attack_01
Death VO_DAL_582_Male_Dreadlord_Death_01
---
Related Cards
Felhound
Felhound Portal
Draw!
---
Game Accessories
Draw
Draw
Draw!