Untapped Obelisks
a combo-theorycraft-deck by Koalabeere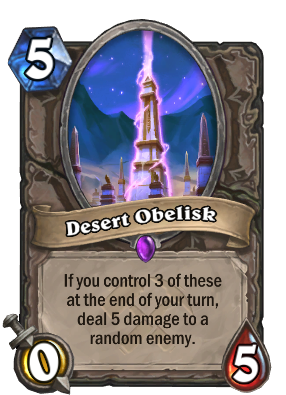 The Combo
Play one or two Desert Obelisk and copy them with Faceless Manipulator and/or Gloop Sprayer to get 3+ of them on the board in one turn
ofc you have to reduce costs before
The Card Types
Spells
Spells in this deck have 2 purposes, to stay alive and to cycle.
The quest Untapped Potential is there to help with that.
It makes it harder to stay alive in the first turns but if you manage to complete it at the end of Turn 5 (ideally by playing one mana under the curve)
Hidden Oasis will help stabalising the game or Nourish will help proceeding to the combo.
Combo Pieces
These are the cards you can play in the combo
2x Desert Obelisk
2x Faceless Manipulator
2x Gloop Sprayer
3 pieces are needed for the combo but at least one has to be an Desert Obelisk
Combo Enabler
These cards are in the deck to reduce the Cost of the Combos
2x Dreampetal Florist
1x Jepetto Joybuzz
you need to reduce eather one combo piece with Dreampetal Florist or two with Jepetto Joybuzz
in both cases the best result is to have one Gloop Sprayer reduced, cause this will result in getting 4 instead of 3 Desert Obelisk on the board
Vote On This Deck!
Enjoy this deck guide? Help others find it and show your support to the author by giving it an upvote!
0
---
More Quest Druid Decks
---
More Decks From Koalabeere