Return of Mechazod!
Mechazod wants a rematch! This time new allies stand against him. Good luck with this return co-op brawl!
---
Trivia
---
How to Play
Players will get pre-made Druid and Mage decks, respectively.
The goal is to get Mechazod's Health to zero.

While you can damage the enemy hero, it is NOT advisable to do so.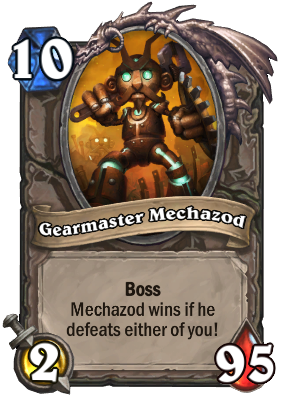 Mechazod will change the side of the board on the beginning each turn.

If the side of the board Mechazod is moving to is full, he will destroy ALL minions there - don't let that happen to you!

At the start of each turn, Mechazod will cast one of five abilities (see below).
---
When We've Seen Return of Mechazod!
| Week | Started | Ended | Reward |
| --- | --- | --- | --- |
| Week #181 | Tuesday, November 27, 2018 | Saturday, December 01, 2018 | 1x Classic Pack |
| Week #31 | Tuesday, January 12, 2016 | Saturday, January 16, 2016 | 1x Classic Pack |
| Week #250 | Wednesday, March 25, 2020 | Wednesday, April 01, 2020 | 1x Classic Pack |
| Week #416 | Wednesday, May 31, 2023 | Wednesday, June 07, 2023 | 1x Standard Pack |