For the past several days, the official Hearthstone Twitter and Facebook accounts have been dropping various teasers across their social media. At first it seemed just like regular, 'harmless' engagement without any particular meaning behind it - after all, it's what takes place over there almost every other week. But most recently, these hints have actually crystallized into an actual online event happening over on Twitch. It has its official name, banners, plus a scheduled date and time.
Metal is not dead, but this band is.

Lich King & The Scourge Present: Unholy Knight is coming to a city near you (as long as you live between Northrend and Silvermoon)! Are you ready?
As to what it's all going to be about - your guess is about as good as ours. The only way to find out might be to just tune in and see. Once we know, we'll be able to update this post further. So keep an eye on this space and perhaps check out the stream for yourself if you are able! Meanwhile, we've got a few things to share and speculate on.
The Unholy Knight is almost here! Catch up on the group's greatest hits before the concert on December 5 at 9AM on Twitch!
That's the standard Pacific time, of course. So 9 AM PST, 12 PM EST, 6 PM CET, 2 AM KST (December 6).
---
Undeath Music and Perhaps Something More?
It appears to be a Twitch-only event, as there isn't anything currently scheduled on YouTube. No associated Blizzard blog posts either, and no other details shared by the community managers or the developers themselves. It's also described as "Music & Audio" over on Facebook.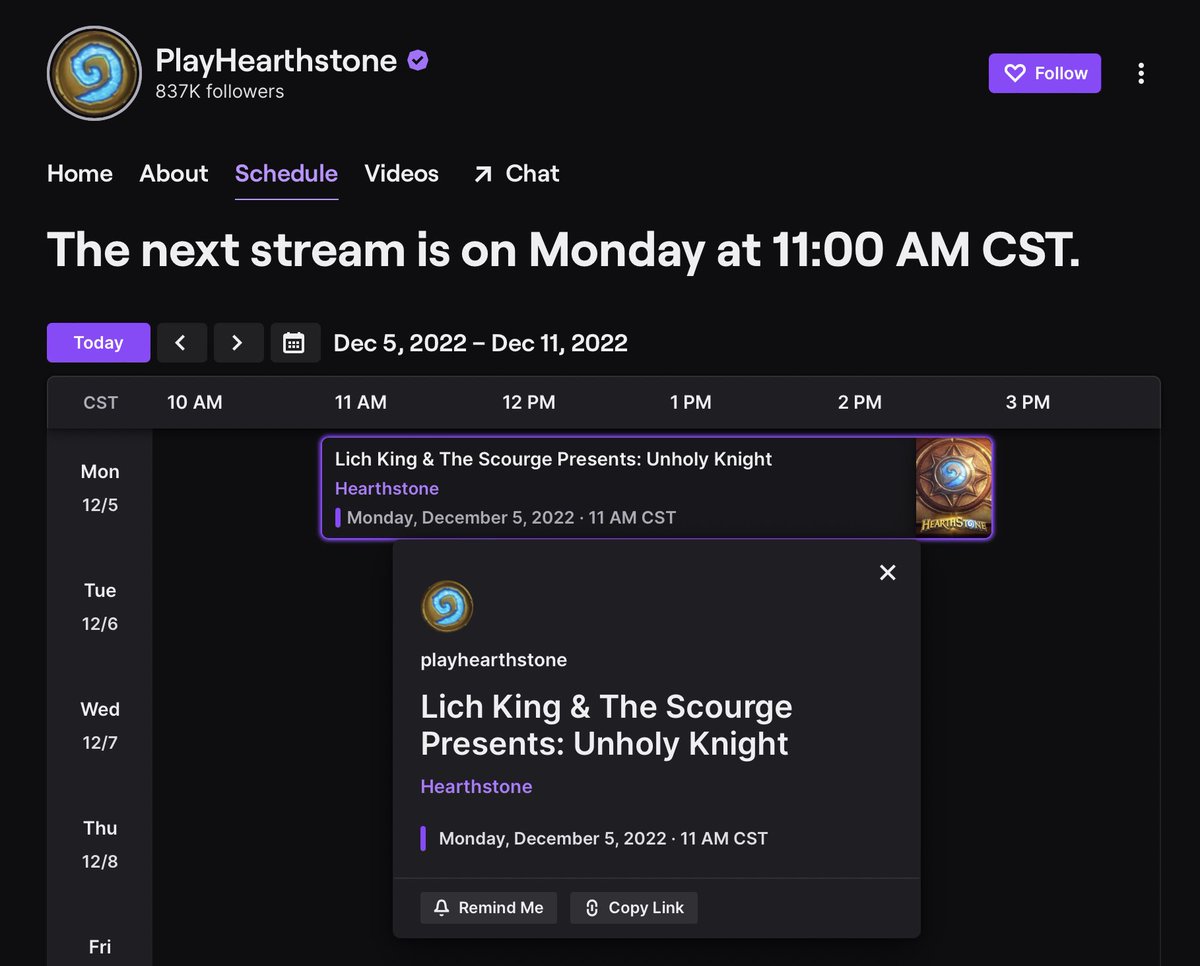 (Source: Ben Hearthstone)
All of this of course reminds us of a certain precedent - the jazzy Crab Rave that took place during Voyage to the Sunken City, bringing us some bangers in the form of remixed Hearthstone themes. However, that particular event was properly announced ahead of time, and we were told to expect Twitch Drops and even surprise bundle codes for the most fortunate. Not entirely dissimilar in concept.
Perhaps it might be something more akin to the relaxing "Hearthstone Hygge All-Day Livestream", which saw its signature moment last year? That was just mainly set up for the good vibes, with nothing substantial on the line.
Update: No Twitch drops per se. So far the stream only seems to offer occasional March of the Lich King pre-purchase bundle codes to people in the chat who respond once PlayHearthstone gives the sign. Good luck catching anything in the ongoing spam, if you dare! Should you manage to win this lottery and be chosen, you can expect to get a private message with the featured code. There are also several codes being thrown out to the public at random, but beating the bots to them might be one tough ordeal.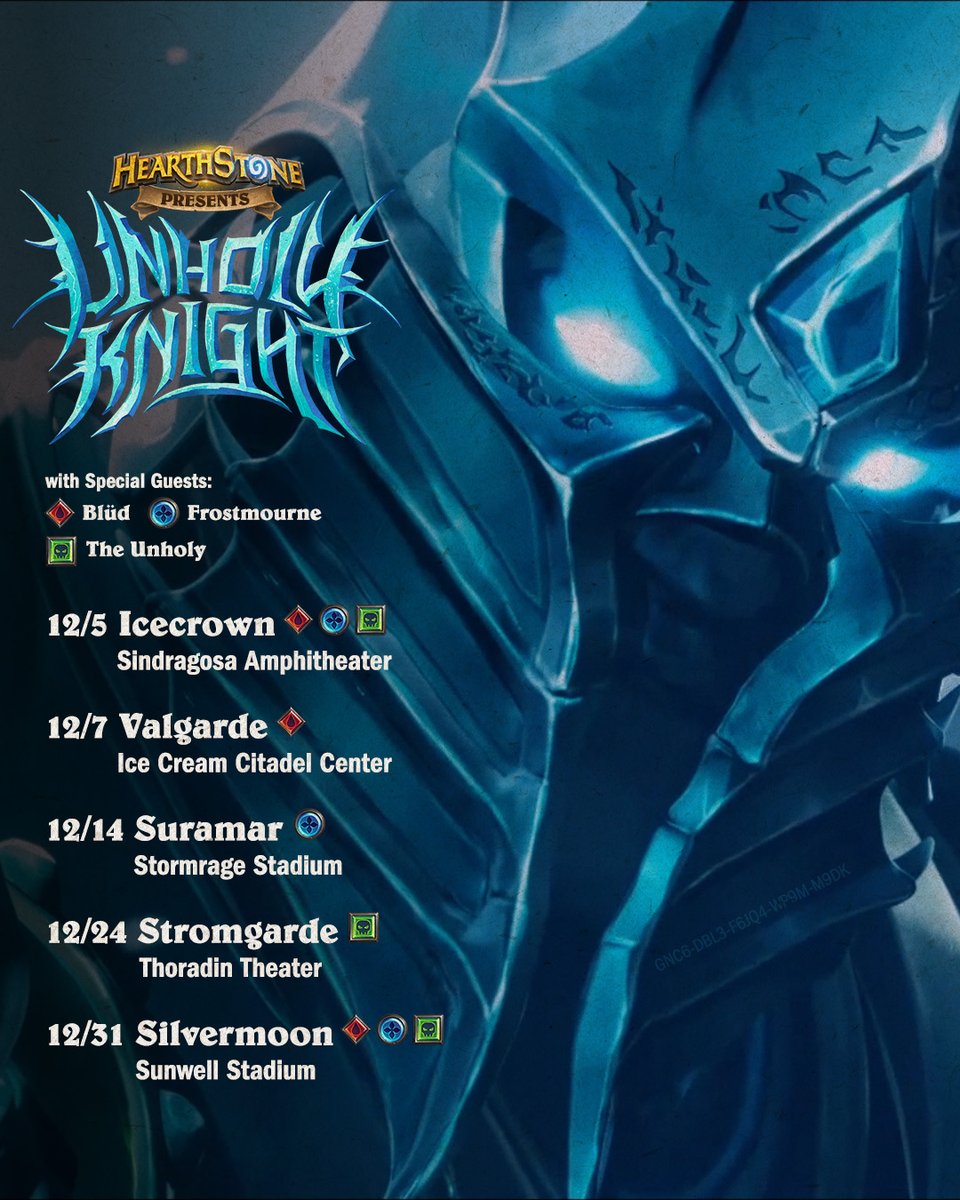 (Source)
Are those other dates even meaningful? Who knows at this point. We mean, the last two certainly are, but not exactly for the Hearthstone-related reasons.
---
Rock It, Lich King
So that's pretty much what all these hints and teasers have amounted to. Even if there aren't any special rewards for the less fortunate and slower among us, let's hope that the Lich King and his Scourge at least know how to carry a tune. There is no entry fee, for better or worse.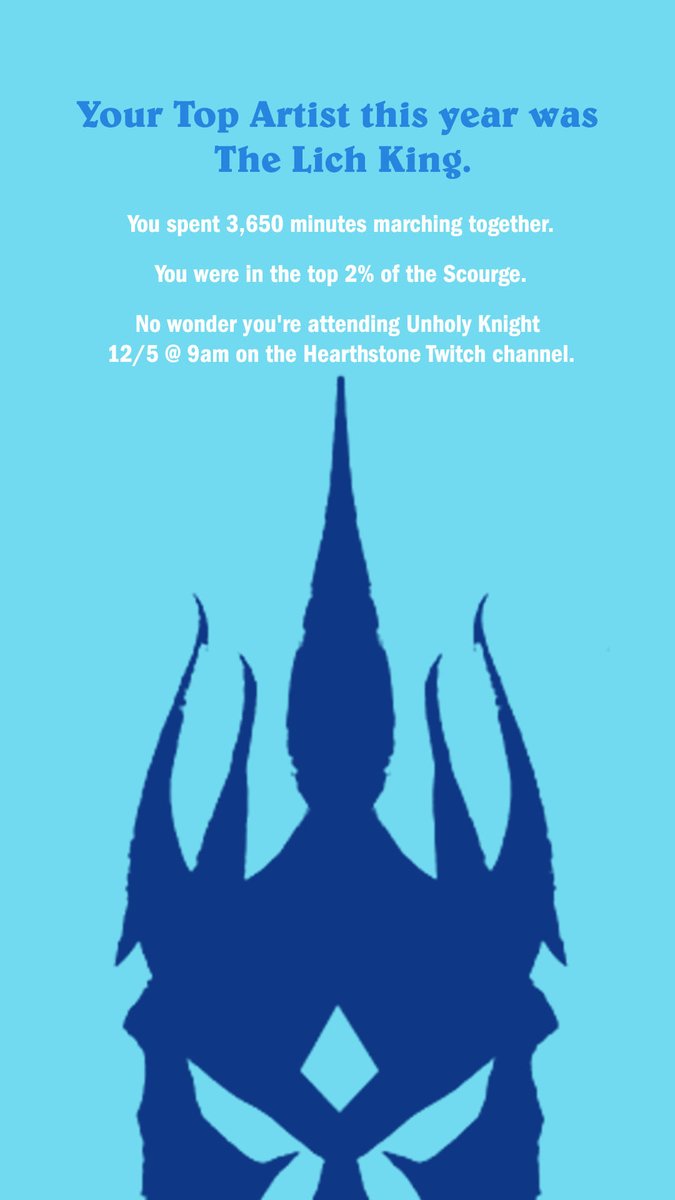 (Source)
Check back later for updates, if you don't plan on attending in person. Actually, check back later anyway even if you do, and let us know what you thought about this whole setup.
---
Watch the Unholy Knight Concert on Twitch
See you there, Undead metal heads.