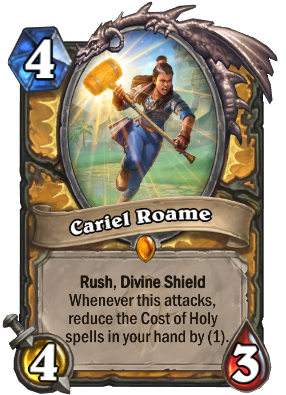 ---
Card Stats
---
Card Text
Rush, Divine Shield Whenever this attacks, reduce the Cost of Holy spells in your hand by (1).
---
Flavor Text
Cariel had pledged her honor to the Alliance, but when someone matching her long-lost sister's description was sighted at the Crossroads, Cariel did the unthinkable: she abandoned her post and set out across the Barrens.
---
Keywords
Divine Shield - The first time a Shielded minion takes damage, ignore it.
Rush - Can attack minions immediately.
---
Cariel Roame Sounds
Play VO_BAR_902_Female_Human_Play_01
Play HS_LegendaryStinger_CarielRoame
Attack VO_BAR_902_Female_Human_Attack_01
Attack 2H_EpicMace_Underlay_Attack
Death VO_BAR_902_Female_Human_Death_ALT_01
Death 2H_EpicMace_Underlay_Death