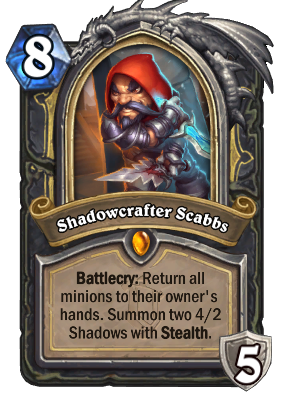 ---
Card Stats
---
Card Text
Battlecry: Return all minions to their owner's hands. Summon two 4/2 Shadows with Stealth.
---
Flavor Text
Sneaking behind enemy lines isn't so different from being a line cook. People are hostile, something's on fire, and your only hope is to get out of there with all your fingers.
---
Keywords
Battlecry - Does something when you play it from your hand.
Stealth - Can't be attacked or targeted until it attacks.
---
Shadowcrafter Scabbs Sounds
Play VO_AV_203_Male_Gnome_Play_01
Play HS_ShadowCrafterScabbs_Stinger
Attack VO_AV_203_Male_Gnome_Attack_01
Death VO_AV_203_Male_Gnome_Death_01
---
Shadowcrafter Scabbs Emotes
Show Emotes
Greeting VO_AV_203_Male_Gnome_Greetings_01
VO_AV_203_Male_Gnome_WellPlayed_01 VO_AV_203_Male_Gnome_WellPlayed_01
Oops VO_AV_203_Male_Gnome_Oops_01
Threaten VO_AV_203_Male_Gnome_Threaten_01
Thanks VO_AV_203_Male_Gnome_Thanks_01
VO_HERO_03l_Male_Gnome_Thinking_04 VO_HERO_03l_Male_Gnome_Thinking_04
Thinking 1 VO_HERO_03l_Male_Gnome_Thinking_01
Thinking 2 VO_HERO_03l_Male_Gnome_Thinking_02
Wow VO_AV_203_Male_Gnome_Wow_01
Greeting VO_AV_203_Male_Gnome_MIRROR_GREETINGS_01
Concede VO_PVPDR_Hero_Scabbs_Male_Gnome_Concede_01
Rope VO_PVPDR_Hero_Scabbs_Male_Gnome_Time_01
Deck Low VO_PVPDR_Hero_Scabbs_Male_Gnome_LowCards_01
Out of Cards VO_PVPDR_Hero_Scabbs_Male_Gnome_NoCards_01
---
Related Cards
Shadow
Sleight of Hand
---
Card Balance and Changes