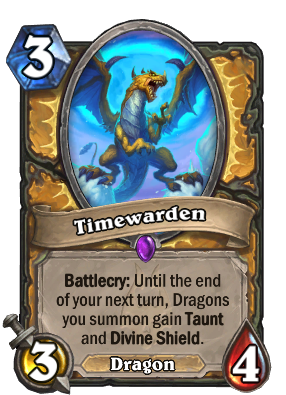 ---
Card Stats
---
Card Text
Battlecry: Until the end of your next turn, Dragons you summon gain Taunt and Divine Shield.
---
Flavor Text
When are we getting the Silver, Gold, and Diamond dragonflight?
---
Keywords
Battlecry - Does something when you play it from your hand.
Divine Shield - The first time a Shielded minion takes damage, ignore it.
Taunt - Enemies must attack this minion.
---
Card Balance and Changes
| Patch | Change |
| --- | --- |
| Jan 2023 Balance | Cost decreased to 3 (from 4). Health decreased to 4 (from 5). |