Hearthstone players can login today after the 18.6 update and get a free Legendary card to celebrate Darkmoon Faire - Silas Darkmoon!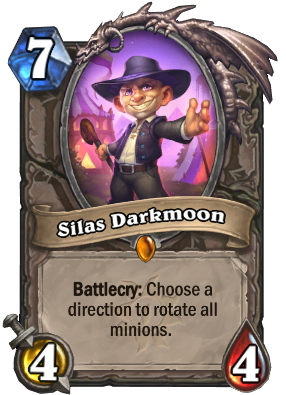 Log in for Silas Darkmoon for Free

Meet Silas Darkmoon, the Darkmoon Faire's founder and lead showman. Log into Hearthstone after the 18.6 patch goes live to receive the Silas Darkmoon Legendary minion for free, available to play immediately! Round and round they go, where they'll stop, nobody knows! Limit one per account.
---
Learn more about Madness at the Darkmoon Faire
Head on over to our dedicated guide for Madness at the Darkmoon Faire to learn more about the new expansion and to see all the revealed cards!
---
Support Out of Cards - Get Premium
Love what we're doing? Support the site for $2 a month to remove ads and get some site cosmetics! Discounts are available if you subscribe for multiple months at once!
---
Get Cheaper Hearthstone Packs with Amazon Coins
Learn more about how you can save money on Hearthstone packs for the new expansion with our guide on Amazon Coins!