We are pretty much at the end of the current Hearthstone patch cycle, with the expectation that the Murder at Castle Nathria update (otherwise known as version 24.0) will arrive no later than Tuesday, July 26. But, nothing is set in stone until we receive an official confirmation - and perhaps we'll even get to see the relevant patch notes ahead of time.
Yet before this question gets answered (or not) later today, we'll be taking one last quick opportunity to catch up on everything that might've been missed over the past few weeks. For it's been a rather peculiar time period.
We've mentioned before how the usual detailed compilation of known issues over on the official forums hasn't really been a thing for the duration of Patch 23.6, lacking a number of important reports and often being neglected when it came to timely updates. Part of it initially had to do with Nicholas "DeckTech" Weisz (also known as GnomeSayin) taking off on vacation, and then everyone on the team getting too busy with preparations for the upcoming expansion launch. And so it's left things in this weird spot.
---
The Strangest Hotfix Cycle - Patch 23.6
Initially, things went very much as planned. Until they didn't. As we kept busy with then ongoing card reveals, a somewhat messy tale was unfolding behind the scenes.
---
Patch 23.6.1
Early on, there was a quick and crucial hotfix patch that we also covered in great detail. So far so good:
---
Patch 23.6.2
Then there was nothing on the vine for almost 2 weeks, at which point the Big Bad (tm) problems started occurring. If you had noticed your Hearthstone game clients getting patched at any point, but then seemingly reverting back to a different version soon afterwards, it was all a result of this failed implementation for Patch 23.6.2:
[7/11 Update] Patch 23.6.2 will go live across the various platforms over the next few days. This patch is dedicated to deploying a behind-the-scenes update to the client that may lead to some immediate general performance improvements and will facilitate future improvements. There should be no notable player-facing changes in this patch.
Unfortunately, nothing seemed to work as intended. Especially for poor Mac users. Other players were reporting faulty visuals, such as the Legend card back losing its glow. And then the lengthy black screens happening between the 'end of game' animations were even worse.
[7/14 Update] The team is in the process of releasing a hotfix client update that will fix an issue where a small number of players–mostly Mac users and/or players with older devices–were unable to open the client or were missing visuals after the 7/11 Update. Update to update: following reports that this fix caused issues for a different set of players, this fix has been temporarily rolled back while the issue is investigated.
Following this, the mishaps continued for a while:
Some days nothing seems to want to work. :(

This client update to fix the Macs/older devices seems to have resulted in breaking the client for other players, so the team stopped that client update and is trying to figure out why.
The separate client hotfix for the Mac/older devices also got a rework, but is still going through testing and stuff before it goes out. Hoping for today, but want to make sure it's thoroughly tested so no guarantee it will go before the weekend. Stay tuned for more info.
As luck would have it, there was a sort of a happy ending achieved at long last:
The team has addressed the issues with the 7/14 Update listed above and is now re-releasing the update to desktop clients.
[7/15, Resolved] The team is tracking reports that a small number of players are not able to launch the game after the 23.6.2 update, or missing visuals in it. These issues impacted mostly Mac users and/or players with older devices. Some affected players reported that changing their quality settings to "low" was an effective workaround. The 7/15 Client Hotfix should resolve this issue for affected players.
Although not every single concern seems to have been ultimately addressed. Perhaps that's one of the roles of the upcoming major patch we've referred to in the intro.
---
Patch 23.6.3
Alas, this unfortunate story is not all over yet. During all the troubles described above, the team was trying to roll out another hotfix patch with a number of minor changes affecting actual gameplay. Now, as you can imagine, it did not go swimmingly at first:
The team found an issue as they were rolling this hotfix out, so they paused the deploy. We will repost with any updates once they've sorted it out.
Team worked on the issues they spotted yesterday and is trying again at the 23.6.3 server hotfix that we had to quickly pivot off of yesterday. Hopefully it will be going out over the next little bit with no issues.
As for what this small patch was supposed to be all about - those of you more or less regularly playing Arena or Battlegrounds might've noticed things becoming slightly different way back when:
We are currently starting the process of rolling out Patch 23.6.3, a server-side hotfix patch, that includes a couple adjustments and a few bug fixes, as follows:

Battlegrounds Update

Shudderwock is now banned from Beast lobbies.

Arena Update

Cavern Dreamer has been reverted to a 2 mana 1/3.

Note: Because this is a server-only update, Cavern Dreamer will function correctly, but will have visual issues where it will either still appear as a 1 mana 1/4 or will have a temporary-looking red cost change to 2 mana.

Bug Fixes

Fixed a Battlegrounds bug where Leeroy the Reckless's effect would destroy the minion that popped his Divine Shield instead of the minion that killed him.
Fixed a Battlegrounds bug where the Mighty Shoal Spellcraft spell would not work correctly with Magnetic.
Fixed a bug where the "We DID Start the Fire" Achievement did not properly progress.
It's also our bad for not picking this theme up sooner, as the busy card reveal period and some staff vacation got the better of us as well (sorry!). I know I was in for a rather nasty surprise, one day drafting 1 mana cost Cavern Dreamer only to find out it was no longer the case once I actually queued up some Arena games (a deserved nerf, in any case).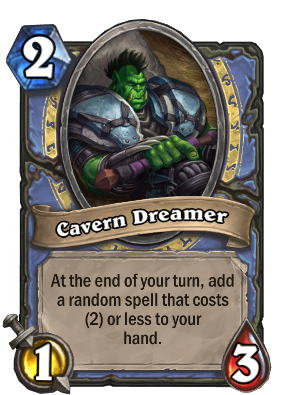 As for Shudderwock in Battlegrounds, it's the king of Beasts no longer. Perhaps aside from one small exception:
why is finely still allowed to get shudderwock in beast lobbies? doesnt that sort of defeat the purpose of the change

Not intended. We'll fix it up
---
Undocumented Changes and Bugs
That's pretty much all noteworthy news in this regard as far as the past several weeks go. There's been no shortage of various player reports meanwhile (with Mercenaries UI still being badly bugged, for example), as usual, but at this point it's just not worth listing them all. Besides, most of the replies received went like this:
Thanks for the report. The team knows and a fix is coming soon. :)
The Hearthstone team has clearly been keeping track of many more issues that they let us know during this patch cycle, so hopefully we're due some more fixes anytime soon.
---
On a side note, we did mention one of the 'silent' Mercenaries changes before, with a slightly nerfed ability speed of Doppelganger (according to many players, not nearly enough).
But we've actually never talked about numerous Mercenaries tasks that became a lot easier to complete - if any of them discouraged you from playing the mode back in the day and you didn't try in a longer while, perhaps it might be worth revisiting:

(Source)
As always, we have the admin of Hearthstone Wiki, use25, to thank for bringing this to our attention.
---
See you in the next, hopefully far smoother patch build!