[Updated on November 17]
If you've been closely following the intricacies of this Hearthstone season's ongoing and special synergistic reveal schedule, then you might recall the very particular reason for the current gap between the gradual planned unveiling of new expansion cards: the previously announced Death Knight Preview Showmatch is now upon us! And we've since learned a few more details about the event itself (some cards ultimately got 'leaked', too).
12 handpicked content creators split into three separate teams will get to play with all of the already revealed Death Knight class cards, along with a pool of all of the new Neutral cards coming to the game on December 6 with the release of the newest March of the Lich King expansion. Think community Theorycrafting streams mixed with an official showcase event; we haven't seen the latter type of production in a while.
Update: Originally, Blizzard's blog post contained incorrect information on Twitch Drops, thus accidentally misleading everyone as to what could be expected from the event. The following is actually true.
It's also the second time this month that Hearthstone provides everyone with an opportunity to earn a couple of free card packs: Murder at Castle Nathria's on Day 1 and March of the Lich King's on Day 2. Twitch Drops will be enabled for the duration of the event on both days (both on the main channel and the channels of participating players), where watching the streams for a total of an hour on *each* respective day can earn you one designated card pack.
Death Knight Showmatch Day 1 - November 16 at 9 AM Pacific (12 PM ET, 6 PM CET; 2 AM KST on November 17)
Death Knight Showmatch Day 2 - November 17 at 9 AM Pacific (12 PM ET, 6 PM CET; 2 AM KST on November 18)
---
Death Knight Preview Showmatch - Meet the Participants
We've known who the hosts would be ever since the original announcement, both of them apparently flying in to be available on location:
You might know Slysssa as a prominently Hearthstone Battlegrounds streamer these days, and Garrett as a (now former) host of The Angry Chicken Podcast.
The names of all of the invited personalities taking part in the showcase have only been unveiled by the official Hearthstone Twitter very recently, and there are some notable ones:
Meet the players for the Death Knight Showmatch

Which Runic roster will reign supreme?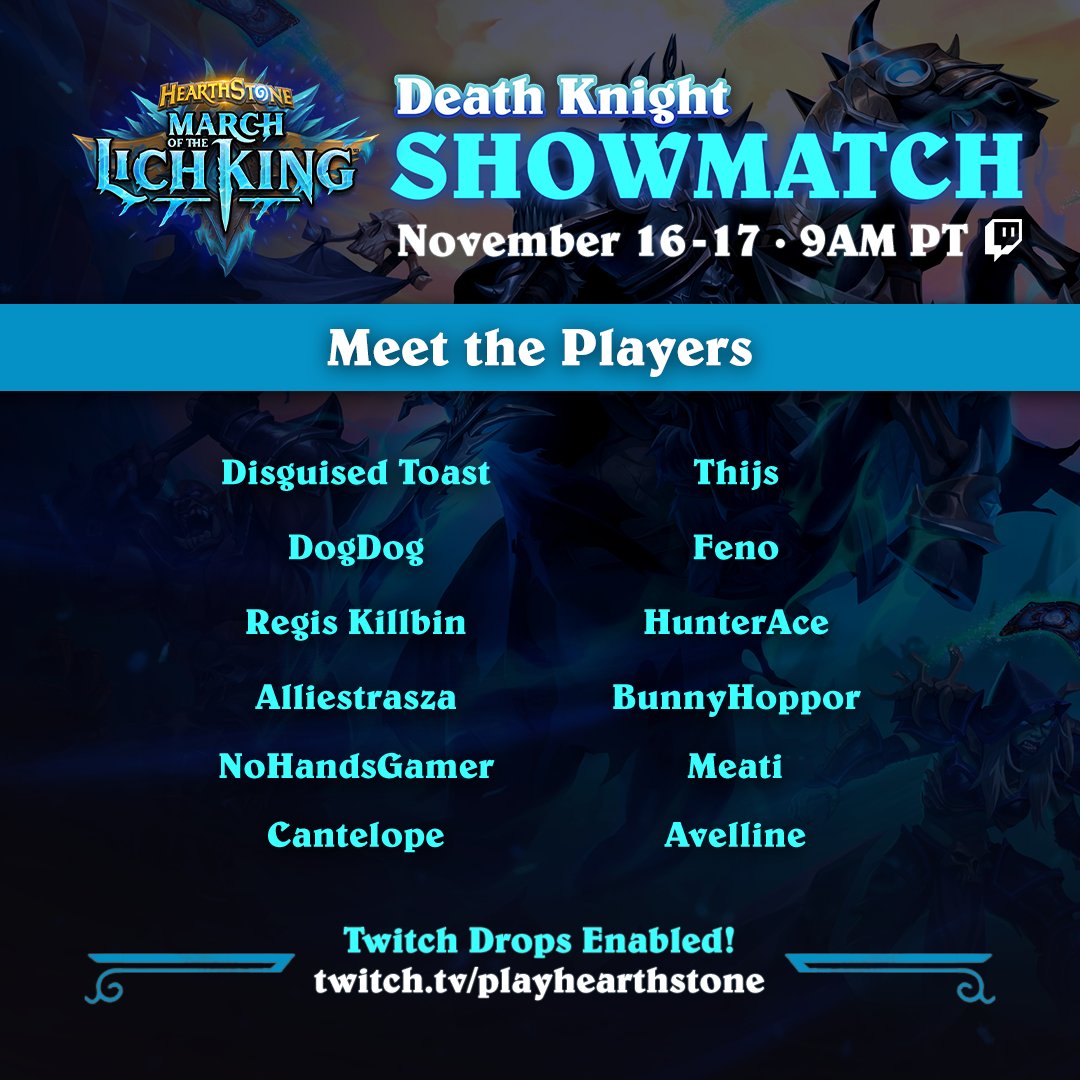 ---
The guest return of Disguised Toast to the Hearthstone scene is probably the most noteworthy and surprising appearance among them all (the rest, you could say, are all regulars anyone keeping the tabs on the community might've already seen here and there). After falling out with Blizzard, he went on to an even greater streaming success elsewhere. Curiously, Toast and RegisKillbin had already teamed up once before by winning the memorable Showdown in Dalaran (after a peculiar recount). But this time they have landed on the opposing sides, to compete in a rather death-ly rune battle.
We had to hear from the players themselves before learning who gets to represent which team, matching three distinct Death Knight Runes and styles of play: Frost, Unholy, and Blood, respectively. Aside from the official broadcast, apparently each of the competitors will be also streaming their own perspective:
Team Frost
---
Team Unholy
---
Team Blood
---
The entire prize pool for the tournament is $100,000 USD.
As for the rules, the proposed system is meant to allow for all possible types of Rune combinations. The deckbuilding format itself hasn't been specified, but the typical assumption points to Standard as the default choice:
Each team will have one member deep into their Rune, two members with one foot in each of the other Runes, and one Wild Card member that can play any Rune combination they want. For example, team Frost would look like this:

Player 1: Frost, Frost, Frost
Player 2: Frost, Frost, Blood
Player 3: Frost, Frost, Unholy
Player 4: Wild Card

Teams will play in a round-robin style format, with team placement and prizing being based on combined team scores.
In theory, Player 4 could even go for 1 of each Rune. But whether that's going to be a viable strategy is anyone's guess. We might get to learn about certain Death Knight strengths and weaknesses well ahead of time as a result of this special showcase - which we know it's not necessarily to everybody's liking. But you can still earn your packs without necessarily watching the gameplay too closely, so there's always that option!
Update: As it turned out, both days of the competition followed their own formats with various added layers and specific match rules on top of the already existing Rune limitations. The games might've lasted a while, but there was more than enough going on to keep things interesting at any point of the broadcast!
If you wish to view some of the decks that were being used in the event, you can find a lot of the lists (and codes) available on each participant's Twitter. Or as showcased here by Round1Boy, along with a very detailed breakdown of all point standings within one spreadsheet.
Death Knight Showmatch Day 1 Results
Team Frost has put on a strong performance, although the "Unholy Boys" aren't too far behind. Team Blood would have to mount quite a comeback in order to stand a chance.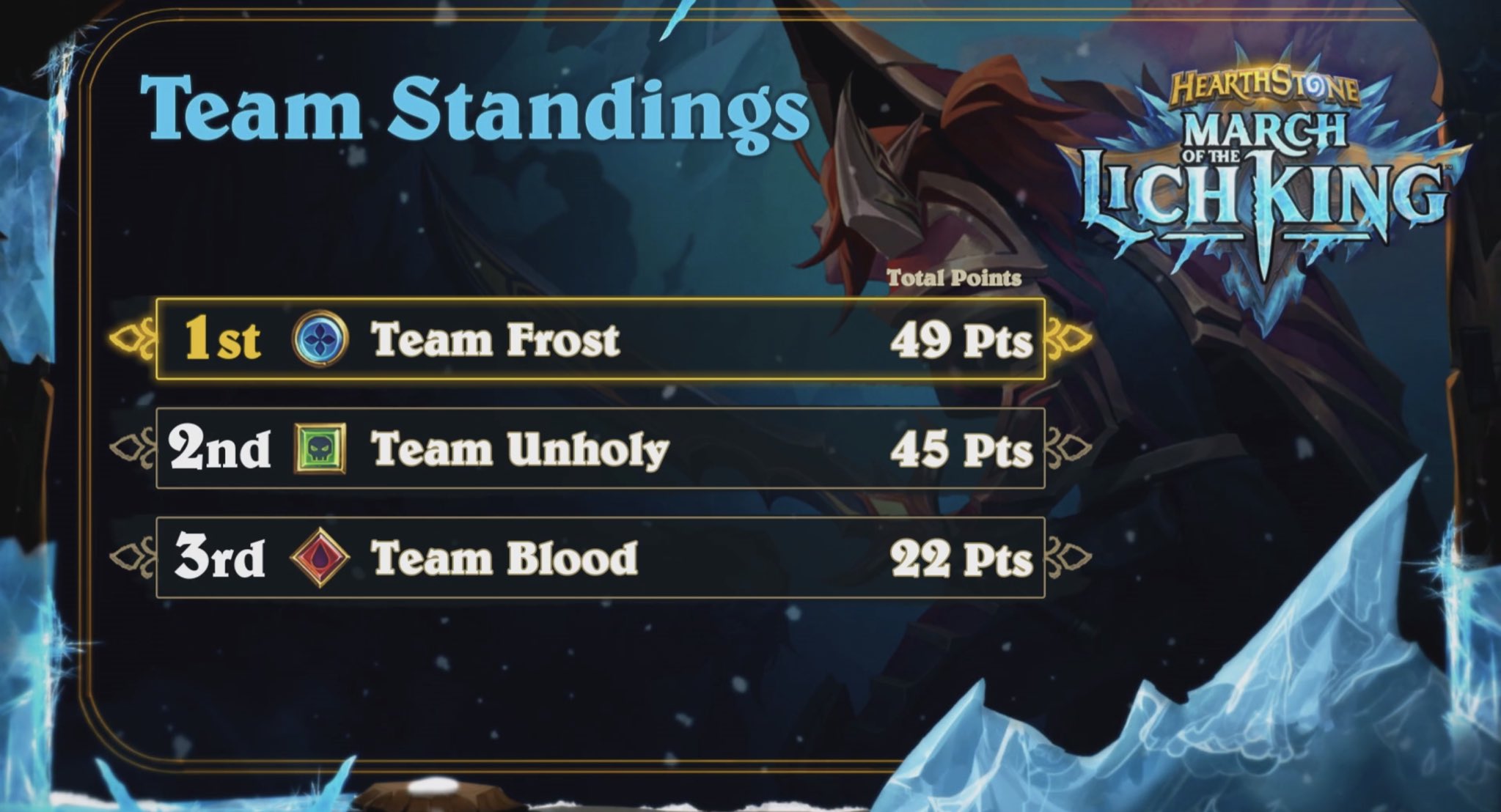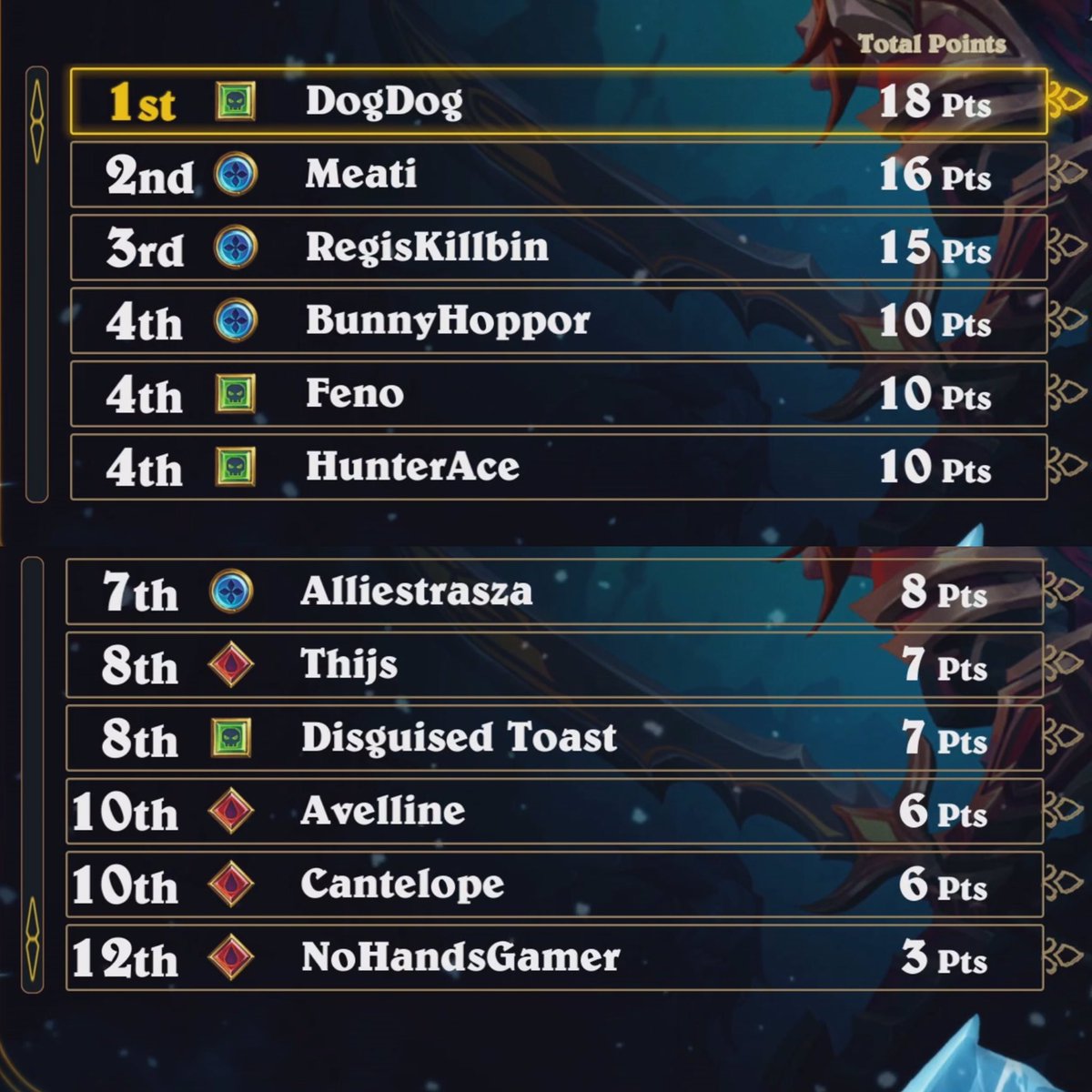 Death Knight Showmatch Day 2 Results
The Frosty reign is official now! And Regis was the MVP of the entire event. That's a chill job well done.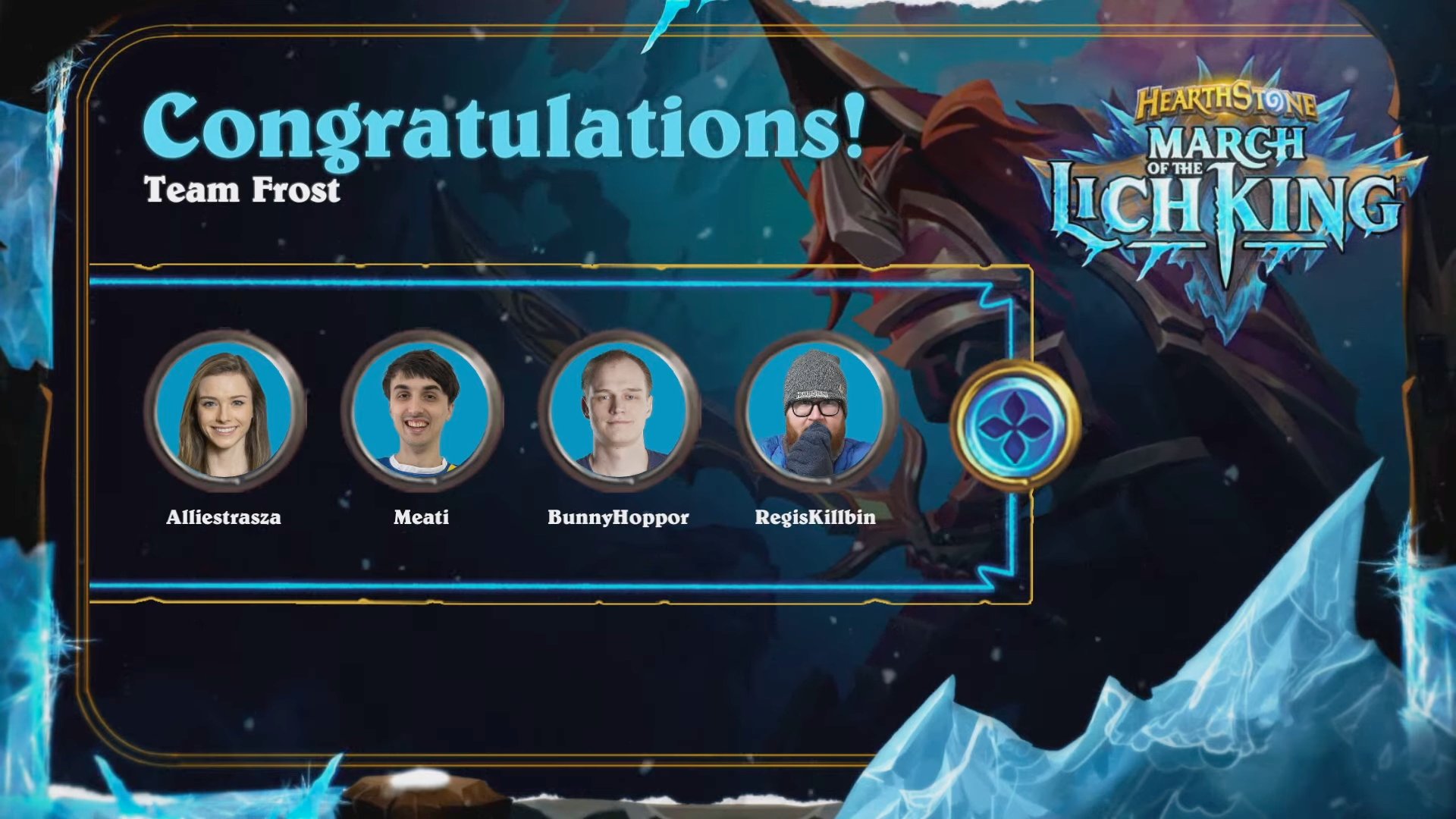 ---
Where to Watch & Twitch Drops
Update: If you want your free card packs, you will have to head over to Twitch. Either the main PlayHearthstone channel with an all-around coverage, or those of the individual participants as well (you can find the direct links above, associated with player images). And while we know when the broadcast is supposed to begin on each of the two days, we do not know exactly how long it's going to last. Early Twitch Drops estimates seem to show the campaign duration of 6 hours. In any case, better be there sooner rather than later!
Note that the Blizzard's blog post has initially included the incorrect information (sorry, we got fooled too), and it's been eventually updated:
Hey all, apologies about the miscommunication about drops for the event right now. The blog was written based on an old pitch and wasn't updated to match what's happening right now. We're getting the blogs updated shortly.

Correct version is what's happening on Twitch now:

- 1 Nathria Pack for watching 1 hour today

- 1 March of Lich King Pack for watching 1 hour tomorrow
There's been some delays and issues with the previous set of Twitch Drops, so be prepared that the pack delivery might not be instantaneous. Also make sure everything is set accordingly on your end.
1 Murder at Castle Nathria card pack for watching the eligible streams for 1 hour on Day 1.
1 March of the Lich King card pack for watching the eligible streams for 1 hour on Day 2.
You can check your watch time progress at any point (as % representation for Drops & Rewards via the Twitch User Interface).
Make sure to refresh the stream window if you are not seeing any indication of progress towards the featured Twitch Drops.
You will not receive the rewards automatically. They must first be claimed in the Drops Inventory menu on Twitch.
After you've claimed your pack(s) on Twitch, make sure to enter the exact in-game server you'd like to receive the drop(s) on: the first region you log into will be where the pack(s) get delivered.
You must link your Twitch and Battle.net accounts before you can receive a drop. Or re-link, as it happens.
---
It will also be possible to catch every bit of the Death Knight Showmatch action on YouTube, either live or through VoDs at a later date. Yet oddly enough, it doesn't seem like any YouTube Drops are going to be enabled on the Hearthstone channel (as they usually are for Constructed Hearthstone Esports events). Twitch remains the only available avenue for earning packs in this particular case!
Day 1:
---
Day 2:
---
Death Knight Class and Neutral Lich King Cards
Should you need a quick refresher on all things Death Knight and March of the Lich King before, during, or after the showmatch, we are here to assist:
We have only seen short gameplay videos of Death Knights up until now, so how the class feels and works in practice is not something people outside of the Hearthstone development team really know much about. The possible power peaks and constraints of specific Rune types and cards is something that's still a bit of a mystery. These following days are definitely going to change that - at least for a handful of players.
---
Wait, Are Those the Brand New Expansion Cards We Are Seeing?
The reveal season was originally supposed to resume on November 18, a day after the conclusion of this Death Knight Showmatch event, and with no new cards purposefully being shown in between. But due to the nature of random generation effects (hello, The Scourge & The Sunwell) in Hearthstone, we have already seen a good number of previously unknown new cards being 'leaked'. Or 'revealed' on stream if you will (more or less accidentally) across the course of natural gameplay. We've set up a separate article to cover them as they come!
Just keep in mind that some of the details might be currently missing (tokens, special adjacent cards, etc.) and we'll probably have to wait for the 'proper' scheduled reveals to fill in the blanks. You can only glean so much information from chaotic live streams. Still, some of you might have seen this possibility coming! Team Five members apparently did too:
Some good news! The "packages" really help in this situation. We knew a few cards might get shown today, but so far our package reveals still have some fun surprises for the community. Seeing how the cards work with the other synergy cards will still be interesting.
Hmm, perhaps it's been just a little bit more than "a few".
---
Are you excited to view some/all of the new Death Knight class cards (plus Neutrals) in action, or it's just "grab the packs and out of there" for you? Any predictions as to the most powerful rune combinations and which team might prove superior in the end?