Hearthstone's final Year of the Wolf expansion, Showdown in the Badlands, is releasing on November 14 and with it comes 145 new cards to collect, a new rewards track, and a new event. That's not including a new meta that shall quickly arise with new broken cards to tinker with and most importantly, those sweet new catch-up packs which will make life much easier for players that are coming back after a long time away from home.
Let's dive into everything you need to know to set yourself up for success for Showdown in the Badlands.
---
When Does Showdown in the Badlands Launch?
Showdown in the Badlands launches on November 14, around 10 AM Pacific (1 PM Eastern, 19:00 CET). Refer to the countdown below - make sure your computer's clock is correct.
---
Badlands Fast Facts
145 new cards added to the game.
New Keyword: Quickdraw

Cards with Quickdraw have a bonus effect that activate if you play the card on the same turn that it enters your hand.

New Keyword: Excavate

Excavate cards give you a treasure from a curated pool based on your tier of excavating.
Your first use of Excavate will give you a Common 1-mana treasure.
Death Knight, Mage, Rogue, Warlock, and Warrior each have a class-specific legendary excavation at Tier 4.
---
Out of Games Badlands Reminders
You can share your decks with everyone on the site - use our deckbuilder!
Find new decks to play in our deck database - here are all the most recently created decks for this patch.
You can login and manage your collection of cards, which can help you find decks you can create.

Check the user panel dropdown at the top of the site to get your "HS Collection" link!

If you encounter any issues on the site, please let us know in our site support forum.
We appreciate everyone's continued support!
---
What Free Stuff Can I Get With Showdown in the Badlands?
Login to obtain a free copy of Thunderbringer.

You may already have this if you have been playing prior to the Badlands launch.

Two free catch-up packs, more on that in a moment, are available for all players.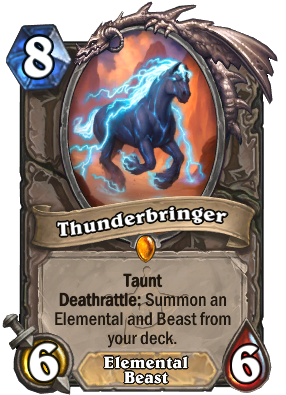 ---
What Are Hearthstone's New Catch-Up Packs?
Catch-Up packs are a brand new type of Hearthstone card pack that are being introduced with Showdown in the Badlands.
Catch-up packs contain cards from 5 different expansions in the current Standard format.

Sunken City, Castle Nathria, Lich King, Festival of Legends, & TITANS.

They contain between 5 and 50 cards in each pack.

You will get up to 10 cards from each of the sets listed above.
Owning 25% or less of that set: 10 cards from that set.
Owning 75% or more of that set: 1 card from that set.
Between 25% and 75% completion: scales with collection completion percentage.

Catch-up packs won't be available to purchase alone, but will be in bundles.

Blizzard has provided additional details on the rarity distribution, quality, and legendary guarantees.
Rarity Distribution: At least 20% (rounded up) of the cards in each Catch-Up Pack will be a Rare or better. The overall rarity distribution for Catch-Up Packs is the same as normal packs.
Quality: All cards are normal quality (non-Golden).
First Legendary Guarantee: One Legendary in the first 50 cards from each expansion (yes, that means you get to capture five different Legendary offering bonuses in these packs).
Mass Pack Opening: You can Mass Pack Open up to 20 Catch-Up Packs at once.
How to Obtain Catch-Up Packs
2 free packs for logging in during Showdown in the Badlands launch. No end date provided.
5 packs available from the Badlands in-game event.
3 packs for purchasing the BlizzCon collection. Available until April 30, 2024.
10 packs in the pre-order bundle for Badlands. Today is the last day to purchase, November 13.
20 packs in the mega pre-order bundle for Badlands. Today is the last day to purchase, November 13.
Catch-up packs will also be available to new and returning players via tutorials.
Some bundles in the shop will include catch-up packs.
There has never been a better time to play Hearthstone.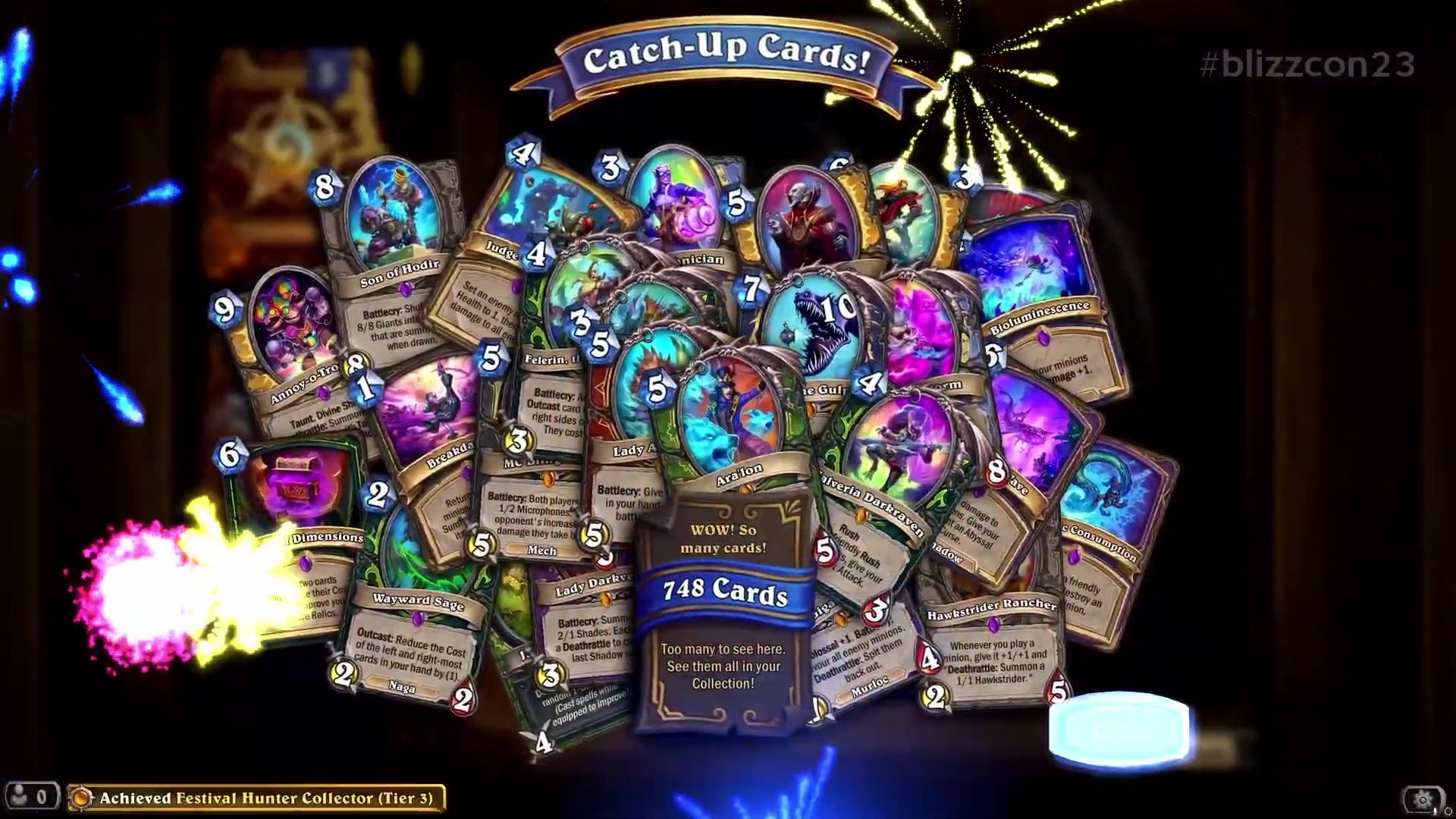 ---
Wanted: Dead or Alive! In-Game Badlands Event
Event begins November 20.
Expansions come with new events and Showdown in the Badlands is no different. The "Wanted: Dead or Alive" event will allow you to complete quests to earn event xp to progress a special rewards track. We datamined information on the quests that you will be completing during the event, which says 2700/4000 of the event xp required will come from the main questline.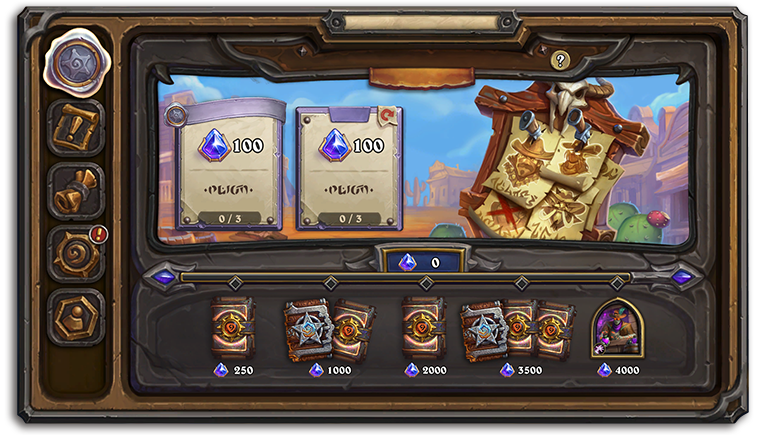 Rewards? You bet! There are catch-up packs, badlands packs, and a cool Warlock skin featuring Rafaam.
2 Showdown in the Badlands Packs
5 Catch-Up Packs
Trader Rafaam Warlock Hero Skin
---
Rewards Track
A fresh batch of achievements with XP and a new rewards track have been added to the game. There is plenty of stuff to obtain on both the paid and free halves of the rewards track so go grind those games! Blizzard has provided an early look at what each level contains.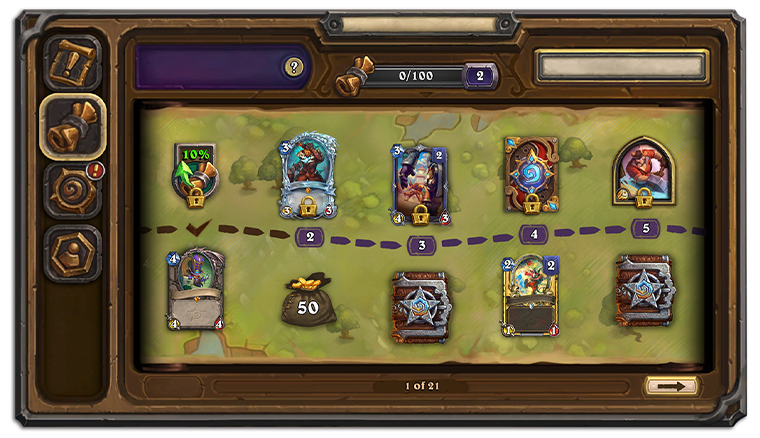 Most notably, there are 6 brand new hero skins available from the final slot on the rewards track at level 100! You can also choose from the original 10 hero skins if you so desire.
---
New Coins
It is tradition that new coin cards enter the fray on a new expansion launch and Showdown in the Badlands is no different.
Outlaw Coin - Earned by completing 90 levels of the Rewards Track. (Requires paid Tavern Pass)
Townsfolk Coin - Earned by collecting 145 unique Badlands cards.
Additionally, the Townsfolk Coin will get easier to earn once the 38-Card Mini-set drops in the coming months.
---
Badlands Community Compendium - Coming Soon
We'll be launching this just before the expansion goes live, so stay tuned!
You can help us create an even better compendium by voting on all the cards via our Tavern Crawl.
---
Good luck with your pack openings! Be sure to share screenshots with us so we can see your incredible RNG, or lack thereof.