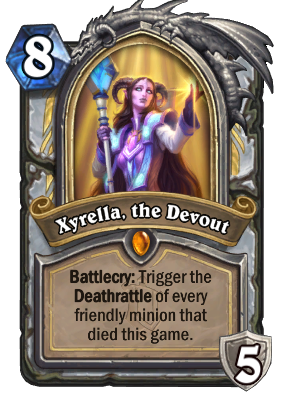 ---
Card Stats
---
Card Text
Battlecry: Trigger the Deathrattle of every friendly minion that died this game.
---
Flavor Text
Xyrella thought she was only saving her daughter. Her actions may very well have saved the entire world.
---
Keywords
Battlecry - Does something when you play it from your hand.
Deathrattle - Does something when it dies.
---
Xyrella, the Devout Sounds
Play VO_AV_207_Female_Draenei_Play_01
Play HS_XyrellaTheDevout_Stinger
Attack VO_AV_207_Female_Draenei_Attack_01
Death VO_AV_207_Female_Draenei_Death_01
---
Xyrella, the Devout Emotes
Show Emotes
Greeting VO_AV_207_Female_Draenei_Greetings_01
VO_AV_207_Female_Draenei_WellPlayed_01 VO_AV_207_Female_Draenei_WellPlayed_01
Oops VO_AV_207_Female_Draenei_Oops_01
Threaten VO_AV_207_Female_Draenei_Threaten_01
Thanks VO_AV_207_Female_Draenei_Thanks_01
Concede VO_HERO_09k_Female_Draenei_Concede_01
Rope VO_HERO_09k_Female_Draenei_Time_01
Thinking 1 VO_HERO_09k_Female_Draenei_Thinking_01
Thinking 2 VO_HERO_09k_Female_Draenei_Thinking_02
VO_HERO_09k_Female_Draenei_Thinking_04 VO_HERO_09k_Female_Draenei_Thinking_04
Deck Low VO_HERO_09k_Female_Draenei_LowCards_01
Out of Cards VO_HERO_09k_Female_Draenei_NoCards_01
Wow VO_AV_207_Female_Draenei_Wow_01
Greeting VO_AV_207_Female_Draenei_MIRROR_GREETINGS_01
silence_target_1
---
Related Cards
Holy Touch
Void Spike
---
Xyrella, the Devout Guides