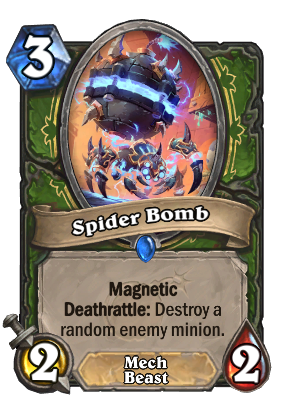 ---
Card Stats
---
Card Text
Magnetic Deathrattle: Destroy a random enemy minion.
---
Flavor Text
Wrecks a dude, any size. Catches thieves, eats those guys. Look out! Here comes a Spider Bomb!
---
Keywords
Deathrattle - Does something when it dies.
Magnetic - Play this to the left of a Mech to fuse them together!
---
Spider Bomb Sounds
Play BOT_251_Spiderbomb_Play
Attack BOT_251_Spiderbomb_Attack
Death BOT_251_Spiderbomb_Death
---
Game Accessories
Deathrattle
Professional
Rust Buckets
Scrapyard
Spider Bomb
Take 'Em Down
Technological