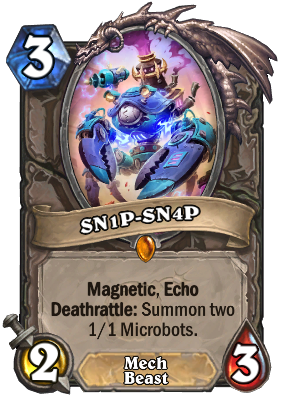 ---
Card Stats
---
Card Text
Magnetic, Echo Deathrattle: Summon two 1/1 Microbots.
---
Flavor Text
"It's gonna be snip this, snap that. Bada-snip, bada-snap!"
---
Keywords
Deathrattle - Does something when it dies.
Echo - Repeatable the turn you play this.
Magnetic - Play this to the left of a Mech to fuse them together!
---
SN1P-SN4P Sounds
Play BOT_700_SN1P-SN4P_Play
Play SN1P-SN4P_Play_Stinger
Attack BOT_700_SN1P-SN4P_Attack
Death BOT_700_SN1P-SN4P_Death
---
Game Accessories
March of the Mechs
Mechs
Rust Buckets
SN1P-SN4P