With the new Maw and Disorder Mini-Set for Murder at Castle Nathria just announced, we're not wasting any time as card reveal period already comes knocking. Starting off strong with a new Legendary Neutral card of Sylvanas herself!
As usual we're going to see 35 new cards, with a trial theme visible throughout!
You can find the full ongoing card reveal schedule and all countdowns on our special page.
Make sure to follow along with all the card reveals through our dedicated articles, and see all of it collected in our Mini-Set guide.
24.4 Patch notes will be posted on Monday, September 26.
The patch launches, alongside the new cards, on Tuesday, September 27.
Besides all of the Mini-Set additions, there will also be new content for Hearthstone Mercenaries.
---
New Cards Revealed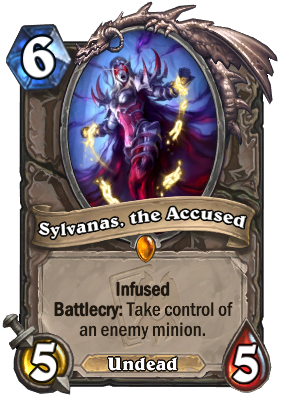 It all comes via Hearthstone Twitter, with a special newspaper page fresh off the print.
Does this bring back memories of the original Sylvanas Windrunner? This new and improved version might be 'slightly' harder to play around. The Infuse keyword is all in keeping with the current expansion.
---
If you enjoy short TikTok videos, that's just where Hearthstone has decided to send their reporter Nicholas "DeckTech" Weiss, as the trial of Sylvanas commences.