Just a short while after the first-ever Mercenaries limited time event, featuring Chi-ji and its companions, Team 5 is back at it with another one. This time, we'll venture into many dangerous Bounty zones with the aid of Leeroy Jenkins, an iconic World of Warcraft player and one of Hearthstone's fan favorite cards of all time.
Our journey won't be in search of just fame and success, but you'll be able to complete a set of 10 event Tasks, which will reward you coins for Leeroy and many other goodies.
Here are all the tasks that are available during the Leeroy Jenkins Mercenaries event. Click any of the links below to visit our guide for the task.
As you can see, these tasks are quite the mixed bag: while some are fairly simple to complete, others require more than a bit of thinking (and luck: that one's always welcome) and planning ahead.
Moreover, certain tasks clearly state that you need Comps consisting on Mercenaries belonging to specific races in order for your progresses to count: the Chi-Ji event was about Beasts and Dragons, and this time you'll need the help of Orcs, Humans and Dragons.
Not all challenges might be as difficult as they seem at a glance: there are usually tips and tricks to be found to make everyone's lives easier. In this series of guides we'll take a look at how to complete each event Task, so that you'll be able to get your hands on all the rewards available. As of now, we'll focus our attention on our current task.
In case you missed them, if you click the banner below you'll have access to each of our task guides for this event.
---
How to Complete the "Leeeeeeeeeeeeeroy!" Task from the Leeroy Jenkins Event
Requirement: Deal 200 damage with Leeroy in a single turn.
Rewards: Golden Leeroy Jenkins Mercenary.
Difficulty: 1/5
This task has some similarities with task 3, except it is quite easier to pull off as it requires less set up:
Back then, you had to get to the Smolderwing Bounty's final fight, buff up your Stonemaul Banner without dying and then use it to deliver the final blow to Smolderwing.
With "Leeeeeeeeeeeeeroy!", you just have to deal 200 damage with Leeroy Jenkins, regardless of what bounty you're trying to complete and who you're facing.
The procedure you should follow is identical: you need to give Leeroy a remarkable attack boost, and the most practical way to do it is with Cariel Roame's Seal of Light 1, especially if you have [Hearthstone Card (Tome of Judgement 1) Not Found] equipped.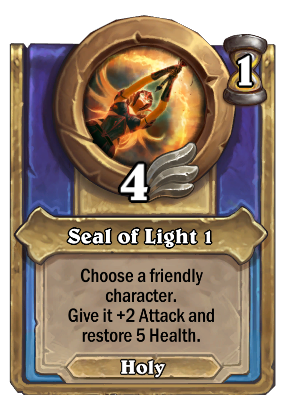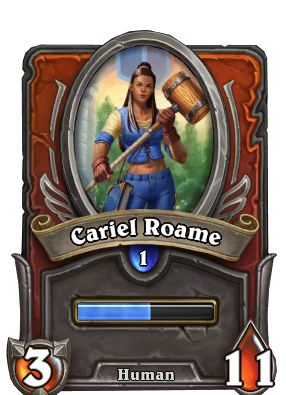 [Hearthstone Card (Tome of judgement 1) Not Found]
However, the enemy units won't just stay there quietly, waiting for you to buff up Leeroy, as they'll keep attacking you, killing themselves into your Mercs. For this reason, Cookie, the Cook's Go Fish! 1 provides units for your opponent that will not attack or kill themselves, and therefore they'll provide as much time as you need in order to prepare Leeroy.
What we're going to do is entering the weakest bounty of Normal Barrens with a team consisting of just Cariel Roame, Cookie, the Cook and Leeroy Jenkins. After that:
Now, how big does Leeroy Jenkins have to be in order for you to complete the task? Well, the answer depends on how much you've upgraded Leeeeeroooy Jenkiiins! 1 - as you might understand, the more enemies you can attack, the less attack power you'll need to have in order to deal 200 damage. Assuming Leeroy is at level 30 and therefore has 10 attack, here's a simple table explaining you how much you should power up Leeroy depending on your Mercenary's ability.
| | | | |
| --- | --- | --- | --- |
| LEVEL OF Leeeeeroooy Jenkiiins! 1 | NUMBER OF ATTACKS | BONUS ATTACK NEEDED | LEEROY'S TOTAL ATTACK |
| 1 | 2 | 90 | 100 |
| 2 | 3 | 57 | 67 |
| 3 | 4 | 40 | 50 |
| 4 | 5 | 30 | 40 |
| 5 | All Enemies | 24 | 34 |
---
Suggested Comps
As we said earlier, Cariel Roame-Cookie, the Cook-Leeroy Jenkins is the cheapest, fastest and easiest way to get "Leeeeeeeeeeeeeroy!" done. Take a look at our own try.
A few additional notes:
---
Other Resources
Our clever community members set up a forum thread to share your Mercenaries progression journey, and we have added an #mercenaries channel on our Discord server if you want to talk with others in real-time. If you need an assist, you can also respond to this guide and we'll do our best to help you out; the comments are also a great way to share your own parties that you've used to complete the tasks above.
Good luck taking on any of these Bounties for those sweet sweet coins or just for the sake of satisfying completion!